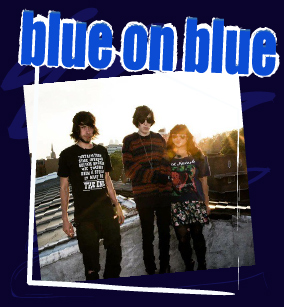 from London
Listen to Blue On Blue on facebook
www.myspace.com/blueonbluepop
http://blueonblueband.blogspot.com
Blue On Blue wowed wombatwombat's Waterloo Park walkabout 8 last August, emphasizing their credentials as one of London's buzziest underground bands.
Dripping glorious atmospherics that flit between dreams and nightmares, singer/bassist/guitarist Dee (ex-An Experiment On A Bird In The Air Pump) says it's the sound of "cherries, cinnamon and warmth" versus a "scream of blazing heat, freezing cold, heartache, heartache and heartache... and codeine."
"Channelling such memory manipulators as Joy Division (the Atmosphere-a-like Fallen) and Jesus And Mary Chain (Summer Daze) one minute, and the dizzy exuberance of early Boo Radleys and Young Marble Giants the next (Cherry Acid Drop) it's hypnotic stuff that also feels giddy and washed out like a Polaroid taken in the evening sun. What will really keep you warm with this coming season though is Cinnamon Swirl – the shortest and best track here, which features a beautifully simple guitar hook from 1991." (Loud And Quite, Summer Daze EP review)
"Blue on Blue are a stripped-down, garage take on shoegaze; the boy/girl guitarists could be Bobby Gillespie and Kim Deal (both circa 1988) from the way they dress, and there's something pleasantly retro about the presentation, like you're discovering MBV for yourself; y'know, circa 1988." (drownedinsound.com)
from Norwich

Check out C.O.L.L on facebook
www.myspace.com/collunique
www.interimrecords.co.uk
As the freshest thing in 2010's Next Big Thing competition and its feistiest finalist, C.O.L.L's raw hip-hop/rap will speak to you through his words, beats and super-confident, engaging, in-yer-face performance: prepare to be won over by the honesty, charm and energy of the Creative, Original, Lyrical, Legend.
C.O.L.L's debut album Blank Canvas came out on Norwich's independent urban-focused label Interim Records in December 2010, marking the start of something big for both parties. Read more on BBC Norfolk Introducing's pages here.
"I love his music, considering this is his first album it is amazing, so much talent there. Five stars." (iTunes' customer review)
from Norwich
Listen to Typewriter Radio on bandcamp
www.myspace.com/typewriterradio
Hear Typewriter Radio's live session on BreakThru Radio here
Typewriter Radio's songs are vivid and voyeuristic documentaryesque vignettes – restrained emotion is expertly encapsulated while constantly hinting at explosion.
Balancing a warm vintage click-click crackle with coolly laser-guided control and delivery, the quartet's sonic cocoon of richly distinctive vocals and luxuriously powerful melodies is evocative, emotional and incisive.
Perfect.
Alluding to Death Cab For Cutie in bolshie mode, Typewriter Radio's considered hook-filled punchy and viciously uplifting peep at another's angst will get under your skin, become embedded in your brain and flow through your veins.
Write it down, listen: Typewriter Radio – contenders for THE breakthrough act of 2011.
"Tight as hell... great songs. Bloody brilliant." (Mr Jason, breakthruradio.com)