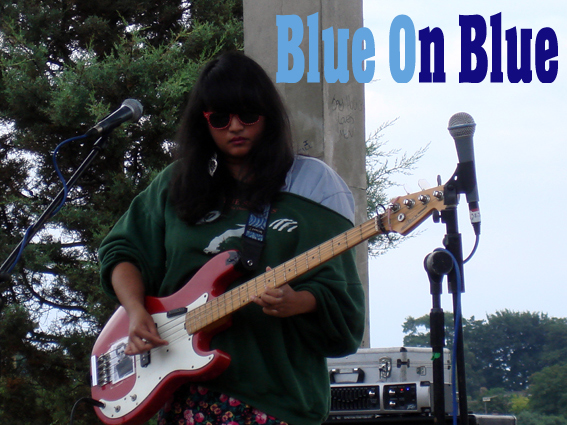 Dee Blue On Blue at wombatwombat's Waterloo Park walkabout 8, Sunday 01 August 2010 © Annie Catwoman.
Blue On Blue headline wombatwombat on Friday 25 February 2011 @ NAC
What has been happening in Blue On Blue's world since you played wombatwombat's 8th Waterloo Park walkabout last August?
Billy: We've been writing songs in an almost unstoppable flow. And creating new instruments capable of levelling buildings.
Dee: We've had a line up change and Billy and I have been throwing ourselves into the exploration of sounds. It's been very exciting. Apart from that, we've also been eating a lot of pizza, watching a lot of films and hanging out at my house and The George Tavern. We've been living a pretty teenage existence.
What are the band's plans for 2011?
Billy: Soundtracking a feature film about going insane in a rectory...
Dee: Our first single will be coming out on Tim Burgess' new label, Oh Genesis, very soon. We're very excited and hope to record and put out an EP by the end of the year. As Billy says, we're working on the entire score for a new feature film directed by Sam Moon. It's a vast experimental project which allows us to do what we love doing most – freedom in creating sounds.
Which other musical projects should we be watching closely this year?
Dee: James Spankie, a multi-instrumentalist singer and songwriter who reminds me of Thom Yorke, Nick Drake and Beirut. Absolutely amazing.
Billy: Niagara Balls – no band have ever been quite so serious about not taking themselves seriously. Fantastic live act, if you're ever lucky enough to catch them.
What are your top tips for bands that are just starting?
Billy: Play music with absolute purpose, dedicate every waking thought to what you're doing, and most importantly, studiously ignore tips from other bands.
Dee: Listen to Steve Albini; do everything yourself and don't rely or think managers/press/bookers will save the day. You're the only one who can save the day. Just chug on and on and on...
What else do we need to know about Blue On Blue ahead of this gig?
Billy: All you need to know is in the music. So hopefully see you at the gig...
Who does what in the band?
Billy: Dee puts raw emotion into words and songs like no one else I know. I make funny noises over the top.
Shoot over here to be blown away by Blue On Blue

Samir, then drummer, and Billy Blue On Blue at wwWPw8 © Annie Catwoman.