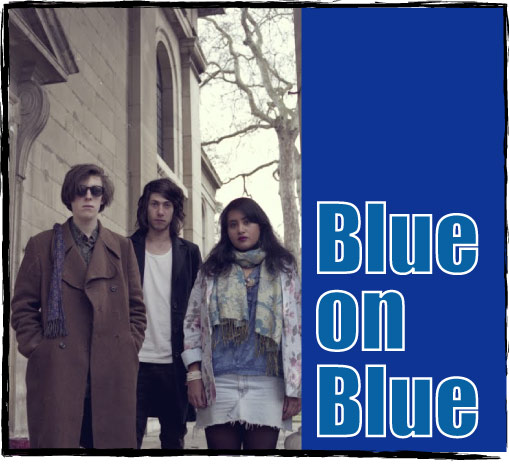 Billy, Samir and Dee are Blue On Blue; © David Philip Woods.
Blue On Blue play wombatwombat's Waterloo Park walkabout 8 on Sunday 01 August 2010
Blue On Blue's sound is best described as...
...psychedelicate noise pop.
...and if your music were a dream or nightmare, what would happen?
If it were a dream, then it would be filled with cherries, cinnamon and warmth and if it were a nightmare, then it would scream of blazing heat, freezing cold, heartache, heartache and heartache... and codeine.
What are the three most important things we need to know about Blue On Blue?
1. Dee.
2. Billy.
3. Samir.
Apart from sounding great in the sunshine on Waterloo Park's bandstand, when else is your music best enjoyed?
Anywhere, any place, anytime. However, I would prefer it if people listened to our music in a dark hot room against loud sounds of life carrying on outside. That's the atmosphere I have when I write my songs... The unreality I create against the true reality outside...
What are your plans for the rest of 2010?
We have a very busy August and September playing festivals and shows. We hope to put out an EP in the fall, tour some more and record some new music by the end of the year. We also hope to visit Norwich again later in 2010. It's an amazing music town.
Who on Blue?
Dee: bass/vocals.
Billy: guitar/vocals.
Samir: drums.
Billy and I sing the songs we write but each band member writes their own musical part for each song.
Pop over here for Blue On Blue's sound of heartache on heartache and blog-up from this link