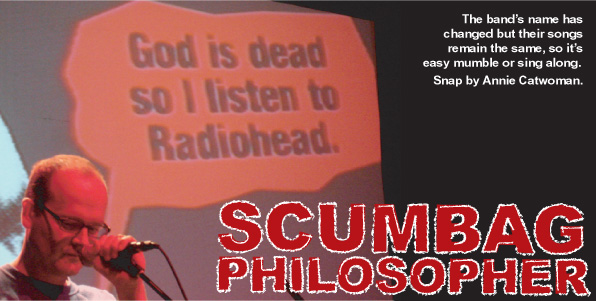 Scumbag Philosopher play wombatwombat's 10th birthday and Christmas party on Friday 10 December 2010 @ NAC
Why did you rename Fuck Dress Scumbag Philosopher, instead of the more obvious 'F Dress'?
The Fuck Dress brand has been sold, for a considerable purse, to a well-known youth fashion retailer that will use it for a new line of edgy urban clothing for the swearier young woman. We may well use 'F Dress' to brand our own competing range of slightly less risqué garments aimed at Guardianista young mums who are keen to wear crotchless culottes on the school run.
Scumbag Philosopher is ungainly, difficult to remember and connotes bigotry, half-truths and pretentiousness. All of these adjectives could also be applied to various members of the band.
Please share a secret or two about your contribution to wombatonebat vol 2, Tickbox Exercise (Phil Vinall remix)...
It wasn't good enough to go on the album so we gave it to you for your compilation (too late now, you've manufactured it). Really, don't bother listening to it.
If you want to hear the proper version you'll have to buy the album. What's the matter? It's the sort of shit young finny-haired Gang of Four rip-off bands do all the time. All part of our game plan to become semi-pro by 2013.
...and what can you tell us about your 2011-released debut album, It Means Nothing So It Means Nothing?
It's much better than Tickbox Exercise (Phil Vinall remix).
It's our 10th birthday/Christmas party and compilation album launch tonight, what will be Scumbag Philosopher's gift to our audience?
Whatever it is, it will be organic, macrobiotic and fairly traded. And possibly illegally trafficked. Where can I get some ethically sourced crack cocaine?
Most of you have been making music in Norwich for a while, how does the current 'scene' compare with 10 years ago?
No we haven't – we are all 25. However, I have asked an old person and they say that no one's been able to play guitar since Clapton.
It seems none of them has a philosophising role within the band...
Adam does email and filling in questionnaires. Anne tidied up our rehearsal room and put up some fairy lights but keeps unplugging the mics and not putting them back. Grant used to rehearse in shorts and a kind of showerproof football jacket but doesn't anymore. No idea what the point of Jon is.
Use this link to find our more than you could possibly ever want to know about Scumbag Philosopher