© David Drake: Olympians captured live in rehearsal
Online tickets from the button at the bottom of this linked page.
Olympians headline wombatwombat on Friday 14 September 2012 @ NAC
This gig is the official launch for the third single in your 2012 Book Club series, please tell us more about this latest release…
Dan: The new single is called It Was Words That Sunk Our Ship, and it's the first of the singles written by our very own Benjamin Thompson. It will be available on a CD with two other tracks, or iTunes and stuff, or people that have joined the Book Club will get a copy posted to them before the release. It's a bit of a departure for us, we tried to do something a bit different with this one and base it all round one repeating idea with lots of variation and stuff. Hopefully this means we can open our music to new markets, ie stupid people that can't concentrate on music if it isn't mega repetitive and in 4/4.
Ben: It's a song! You can buy it in book club format and get the other singles with it, or you can buy it on its own as a CD or download. Either way, it comes with two B-sides, one of which is possibly more exciting and incredible than the single itself, and the other of which is the soundtrack to that '80s horror sci-fi film you've been writing about alien robots that come to earth disguised as service station attendants and slowly drink the world's supply of fossil fuels.
…and the accompanying video by Liam Roberts.
Dan: I don't what to tell you about Liam's video, except that it's an explosion of vibes. We're quite happy for Liam to do what he likes with our videos, as he always comes up with something totally nuts. I'm pretty sure there's some footage of an ocean in the new video, and possibly a mushroom cloud, other than that there could be anything going on. Really looking forward to what he comes up for the Arts Centre show as he's planning a whole set of visuals. I'm hoping for a single shot of a decomposing carcass sped up to fit across the entire set.
Ben: Liam spent about three solid days carefully and tirelessly collecting vibes from all over the internet and then weaving them into a rich tapestry of stormy juddering colours. He will be doing a similar thing at the wombat show, but making it all as we go along, which I can only imagine involves somehow capturing the vibes that wombatwombat gigs are so renowned for, sucking them direct from the room, and then magically transcribing them into swirly colour.
And what's the story behind hooking up with Barely Regal rather than doing a DIY release or working with a Norwich-based label?
Dan: We've never really considered it to be shunning Norwich by working with a label from outside of Norfolk, it just seemed to make sense for us to have more than one base to work from. When we go to play in Cardiff now it feels like a second home to us, which is absolutely amazing, and we've got plans to start bringing other bands from the label to play in Norwich in the next year, so expanding the whole family a bit. That said, we have released tracks through Norwich labels – we did a track for the last Bare Feet Records compilation for instance – but nobody from Norwich ever offered to release any more than that so boo to them. We met the Barely Regal guys when we played a show with Among Brothers at the Old Blue Last, this will be the first time we've played a show together since, so it's pretty ace.
Ben: Working with Barely Regal is still very much DIY, it's just that there are more Ys getting involved.
You're playing some festivals this year: tell us more…
Dan: At time of writing this, we've only played Fieldview Festival, and that was last weekend, so that's winning so far. We are going to be playing End Of The Road at the end of August though, and I expect to remember that one best for getting thrown out by security for endlessly harassing Jason Lytle from Grandaddy to be my best friend. Looking forward to that. He's not.
Ben: Fieldview was delightful, run by such competent and lovely fellas, and was twee-er than a tea-maid's button collection, so we felt very at home.
…and which other bands on those bills impressed you or are you most looking forward to?
Dan: We didn't really see many at Fieldview because we had to rush off, but we most gutted about missing Spring Offensive, who on every other occasion we've seen them have blown our fucking minds, so let's presume they would have done so again if we'd seen them that day. At End of the Road I'm looking forward to Grandaddy (if they still let me in the tent), Jeffrey Lewis, Sleep Party People, Zun Zun Egui, Islet and Grizzly Bear.
Ben: Seeing Killamonjambo at Fieldview was a rare treat.
What efforts did you make to be part of the London 2012 opening or closing ceremony – surely, your band would have been ideal: didn't the organisers miss a trick?
Dan: We don't want to talk about the fucking Olympics anymore. It hurts too much. Paul McCartney my arse. We posted Sebastian Coe a picture of us rocking out at the ceremony, but I don't think he got the hint.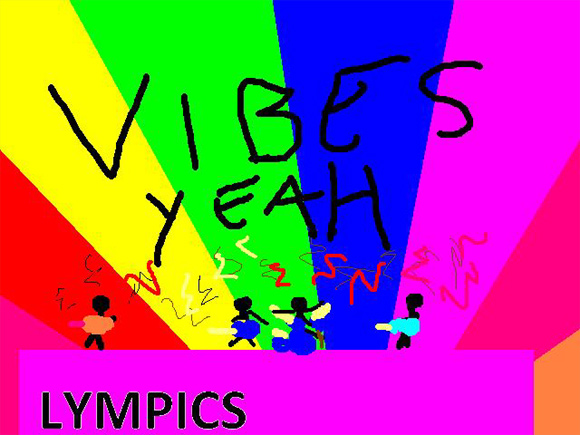 Ben: Actually we couldn't be involved in the ceremonies as we were too busy choreographing the entirety of the rest of the Olympics. They asked us, of course, but we just had to say: "No, these stadiums won't build themselves! You'll just have to get Danny Baker to help you instead." They misunderstood us evidently – with disastrous consequences.
Please share your thoughts about Norwich Sound & Vision 2012…
Dan: It's fucking great. We're mega stoked about seeing Liars, Tall Ships and Dad Rocks! most of all. My only fault with the event is that they've never booked us. Bastards.
Ben: Excited as always, it's such a great idea to realise the fact that festivals involve so many music related people coming together and to use that opportunity to host some pertinent and useful discussions. Plus their branding is great this year.
What's next on the agenda for Olympians?
Dan: We've already got Book Club #4 pretty much sorted so we're going to spend the rest of 2012 resting on our laurels writing new material. The Barely Regal guys only really let us arse around doing this stupid Book Club thing if in return we made a proper actual record afterwards, so I suppose we should probably get on with making that.
Ben: Item 4) Playing more rock shows.
Item 5) Releasing the final Book Club single (spectacular).
Item 6) Further comments and questions.
MEETING ADJOURNED.
Social media snapshot
Which social media do you use and how do you rate them in terms of the best way to promote your band, with 1 being the best?
Dan: Same as last time probably.
Who are these Olympians?
Dan: I play the guitar and shout a bit. Chris plays the bass. Ed plays the drums. Ben does everything else.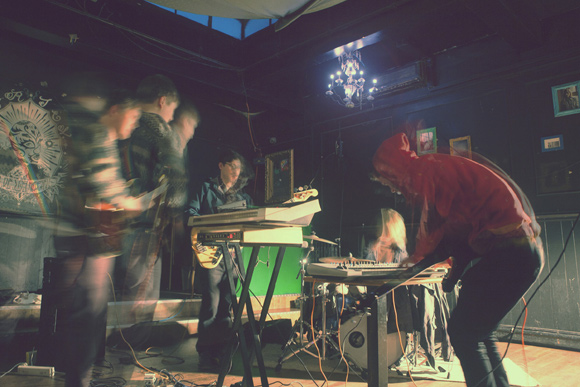 © David Drake