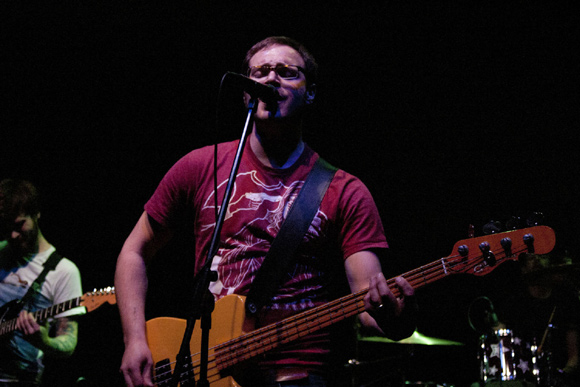 © Tyler Clarke
Online tickets from the button at the bottom of this linked page.
Darwin & the Dinosaur play wombatwombat on Friday 14 September 2012 @ NAC
There's a lot happening in camp Darwin & the Dinosaur at the mo: please tell us about your new line-up…
We're really excited as we have recently expanded operations and are now a five-piece! After the addition of Ben last year we've thrown caution to the wind and invited our friend Steve along to make some extra noise with us.
…your evolving sound…
Yeah I [Alan] feel that our sound has evolved somewhat. We never sat down and said "hey why don't we sound like this" so what we're achieving at the moment is a natural progression that a lot of very nice people like very much.
…and your forthcoming seven-track EP.
The new EP is so close to being finished it may be ready in time for our September gig but I can't promise you can't rush the creative process ha ha!
What else do we absolutely need to know about Darwin & the Dinosaur?
Joe doesn't like bananas. I offered to pay him to eat one and he said no. He really sticks to his guns!
Please share your thoughts on the Norwich music 'scene'…
It's a vast scene with some very talented band and singer songwriters. We are very lucky to live in such a musically eclectic city. I would like to use this opportunity let everyone know I (and probably we) think Big Success are the bestest Norwich band to date.
Social media snapshot
Which social media do you use and how do you rate them in terms of the best way to promote your band, with 1 being the best?
| | | |
| --- | --- | --- |
| Ranking | Social media | URL |
| A+ | Facebook | |
| A | Twitter | |
Who's a dinosaur?
Alan: bass/vocals.
Alex: guitar/vocals.
Ben: guitar/vocals.
Steve: guitar/vocals.
Joe: drums.

© Tom Bates