Drugstore's Isabel is coming to get you!
Online tickets from the button at the bottom of this linked page
Drugstore headline wombatwombat on Friday 13 April 2012 @ NAC
We're honoured that Drugstore has chosen to play wombatwombat as one of only three UK gigs to help promote the release of Aquamarine: why did you feel the need to return to Norwich after more than 10 years…
We've known Annie, who helps run the wombat club for sometime, we're mutual fans. She likes our band, we like the way she runs the club. Also, the Arts Centre has been on my sight for years – it's such a great venue, but for some reason, we never had a chance to play there – so, we're totally looking forward, it's gonna be special.
…and how has the band changed during that time?
When I knew I wanted to record another album, I also had to come to terms with the fact that everyone else in the band had moved on. The guys got married, have mortgages and most live abroad, so I kinda had to look for new people, which turned out to be quite an epic journey. The world is filled with crazy people, that's for sure, but if you persevere, you end up sifting up the good ones. Got some great guys onboard now, people who totally understand what this band is all about, but, yep, it wasn't easy finding the right people, and many a cowboy got killed along the way.
What's the story behind the Aquamarine video?
I came across this amazing archive of really old police mugshots and crime scenes. It was incredible to look at some of those faces and imagine the terrible stories behind them. I fell in love with one of the petty criminals, done for drunkenness and disorder – this beautiful sad face straight from the 1950s – so I animated his mugshot and decided to make him the star of our video. It's a duet, a tale of two lost desperados whose life has gone off the rails forever.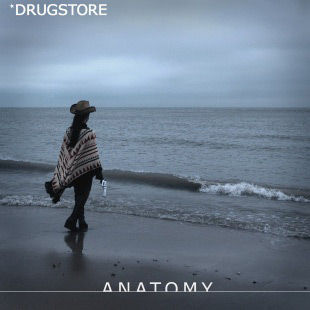 Aquamarine is taken from last year's triumphant comeback album, Anatomy; for anybody not in the know, how representative is the track of that collection and the music of Drugstore, starting in 1993 and including the seven-year hiatus from 2002 until 2009?
I wanted to the album to reflect where I've been, my own isolation and sense of disconnection from the rest of the world – it needed to have a super intimate and barely held together feel to it. I guess every Drugstore album has its own sound and landscape – and it's slightly different from its predecessor, we've always evolved a little, but tried to keep the essential elements in place. I've also grown a little tired of that fuzzy-guitar sound, I was after a slightly more delicate, crying-tremolo sound, Most of the album is pretty quiet, filled with empty spaces and sadness – but every now and again, there's a chilli-pepper bite, like Aquamarine, just to make sure we're still breathing…
To any enchanted punter, the Drugstore live experience has always been masterclass in Isabel's storytelling and performance: an enthralling mixture of heart-on-sleeve intensity – packed full of raw and passionate emotion – and hilarity – generally with a generous helping of pitch-black humour – seamlessly switching from one to the other in a heartbeat… How do you manage to do that?
Now, you've gone way overboard there – and to be honest, I hardly deserve any credit, coz the truth is, up onstage, I'm just being myself. It's an interesting thing, isn't it? Some bands are great 'cause they put on a show – while others, like ourselves, just let it all hang out from within. It's not an effort or a 'show' – it's just our emotions spilling out of control. Now, that a drink or two helps, that I don't deny – so bring on the bottles of wine, anything – we'll drink it all and let it all hang out.
In your opinion, what else defines Drugstore and keeps its twisted heart still beating pretty?
It's all about our innermost core emotions and three pretty guitar chords. That's it. Oh, and wine and living dangerously, love and sex, great expectations and majestic disappointments – in sum, the meaning of life in a poncho.
What are your plans for the rest of the year?
I'm a woman living on the edge of nothingness – got nothing planned and no master plan of any kind. I live life with an open heart, and music keeps it beating. We'll take whatever comes our way.
What would be on a Come Dine With Drugstore menu…
We at the Drugstore are 'foodies on a tight budget' – arrrg, the tragedy! – and I'm totally useless in the kitchen, so I guess we'll have to leave the cooking for somebody else, and be the guests with the best stories to tell: for if there's one thing we are never short of, it's a good rock'n'roll tale.
…and who'd feature on your accompanying mixtape?
I can take Leonard Cohen any day of the week, any week of my life.
Social media snapshot
Which social media do you use and how do you rate them in terms of the best way to promote your band, with 1 being the best?
Miss M and her cowboys are…
"These guys are 'no cowboys' but lovely and talented pistoleros," say Isabel Monteiro, who plays bass, guitar and sings, backed by:
Peter Allinson: keyboards, piano.
Olivier Martinez: guitars, lapsteel.
Steve Dixon: drums, percussion, samples.