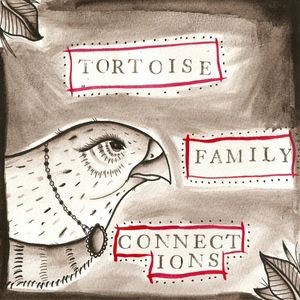 Tortoise Family Connections play wombatwombat on Friday 14 December 2012 @ NAC
online tickets from the button on this linked page.
Thanks to your commitments with The Kabeedies and These Ghosts, this is a rare Tortoise Family Connections gig: what's been happening in Tortoiseworld and when can we expect a follow-up to last November's six-track EP Extraterrestrial Kestrel?
Rare indeed! Well judging by our previous efforts to get together in the same room, the follow up could be next week or next century! Calum is busy receiving an education and I'm very busy keeping up our profile by drinking in the pubs of Norwich. Hopefully there will be something new for everyone to enjoy in the New Year, maybe this time we could even break the six-track mark…
You've a reputation for slipping in a cheeky, and often 'unusual', cover to your sets – how do you decided which songs get the TFC treatment…
Usually it's a case of:

A) What songs haven't we played from the first Weezer album?

B) Which songs from the self-titled Jimmy Eat World album can we physically play?

C) Is it Christmas? We could cover Jimmy Eat World's version of that Wham song.

Obviously with the exception of the occasional pop smash hit, I think our version of Hello could be in stores soon.
…and what hints can you give us about tonight's offering, bearing in mind it's a combined birthday and Christmas knees-up?
Shane MacGowan is actually rumoured to be joining us on stage and/or down the pub afterwards for a rendition of Fairytale of New York. Either that or me and Calum will murder a Christmas classic on stage wearing inappropriately large party hats. Oh! We could dress up as elves. No I'll be Father Christmas and Calum can be my elf.
So, TFC: for fans of…
Any rock/pop band early in their career. Early Weezer, Biffy Clyro, Kings of Leon (when they wrote songs not twatty stadium shite) and largely accurate two-man harmonies. Plus on stage chat far longer than the songs themselves.
You've been best buddies for ages, tell us about your festive gifts to each other.
Well I once gave Calum my PlayStation 2. I don't think that can really be topped. We usually just say "Shall we give each other music again this year?" Because we're serious creatives, obviously. I think this year we'll just swap hugs and good wishes. Maybe a cheeky peck under the mistletoe.
Social media snapshot
Which social media do you use and how do you rate them in terms of the best way to promote your band, with 1 being the best?
| | | | |
| --- | --- | --- | --- |
| Ranking | Social media | URL | Anything to add? |
| 1 | Bandcamp | | Bandcamp is fantastic, a proper website for bands. |
| 2 | Twitter | | Forgotten the password. |
| 3 | YouTube | | I don't remember this being set up but I do love YouTube. |
| 4 | Label's websites | | Legendary local label, quality website. |
| 5 | Anything else | | Last.fm is under appreciated I think, great to be aware of the listening habits of your fans. |
| 6 | Myspace | Non-existent. | Nostalgic. REBIRTH! |
| 7 | Facebook | Non-existent. | Looks awful for bands. |
Who's making those tortoise family connections?
Rory: I'm the business guy, the suit, the tie. Making tapes, wasting money, booking practices. That and playing the guitar and singing.
Calum plays the drums, sings and looks damn handsome in the process.