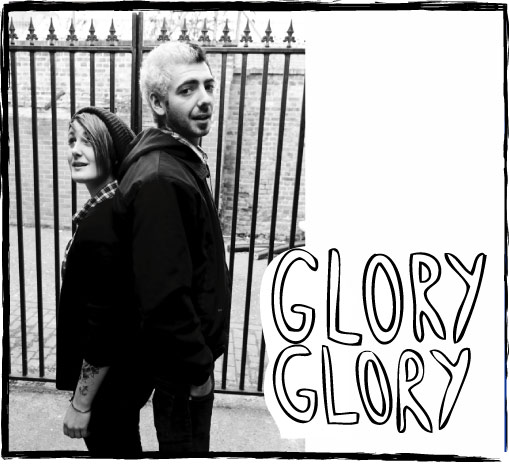 Shannon and Panos Glory Glory are destined for big things.
Glory Glory play wombatwombat's Waterloo Park walkabout 8 on Sunday 01 August 2010
Glory Glory's sound is best described as...
...loud, aggressive, fun, energetic.
...and if your music were a tattoo, what would it be?
It would be a hard looking, fierce pirate ship run by a crew of clowns.
What are the three most important things we need to know about Glory Glory?
1. We're a boy/girl two-piece.
2. We like to keep our music raw and loud.
3. We're both hopeless romantics at heart.
Apart from sounding great in the sunshine on Waterloo Park's bandstand, when else is your music best enjoyed?
Among drunk friends who want a fun night out!
What are your plans for the rest of 2010?
Well, Shannon's moving to London for uni in September so we're going to try to get plenty of gigs there and, obviously carrying on playing Norwich! Record more, have fun, play with bands we love. We're playing a riot grrrl night in Cambridge in September and we're both looking forward to that – gig details are on our myspace.
Hallelujah, it's...
...Glory Glory: Panos plays guitar and Shannon drums; we both do vocals.
We share the songwriting: Panos' songs are usually more aggressive/shouty, Shannon's are basically love songs.