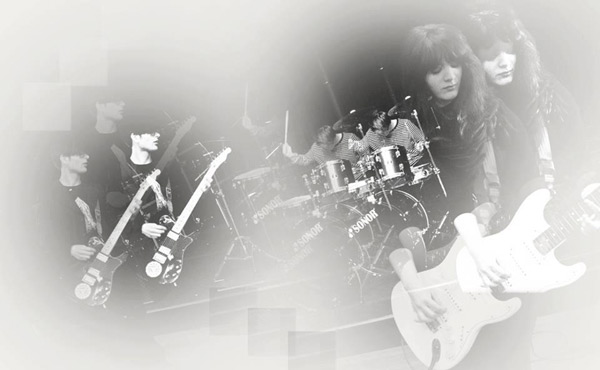 © Kate Wood
Horse Party play wombatwombat's Norwich Sound & Vision Showcase
on Thursday 10 October 2013 @ NAC bar
entry is via an excellent value NS&V wristband or an individual ticket for that evening's gig at NAC, subject to capacity.
What happens at a Horse Party…
…stays at a Horse Party. All your secrets will be safe with us.
…and why should people join you for the ride?
Aside from the fact that we're very discreet, smell delicious and we're a relatively cheap date.
You've packed in a lot since launching in September 2012: what's the highlight to-date?
Really, it's all been one long highlight – none of us had any real friends before this band, so we're grateful for the companionship. But the Bury Fringe Festival in May was particularly fantastic: there was something about the day that was perfect and we played like monsters. Gigging in general, meeting and playing with ace new bands never gets old. And hearing our album mastered for the first time, gathered round my 1980s Amstrad hi-fi, sharing a bottle of Jameson's, was amazing.
What's your favourite Horse Party soundbite?
unpeeled.net said that we were "the punk pop rock party that rolls The Kills, Garbage, Patti Smith and The Wire on to one bill, so pay up and stroll on" – I don't know if they meant the TV show The Wire or the band Wire. And Rick from Planet of Sound always delightedly points out that my name rhymes with "Wiggly" when he plays us on Future Radio, which pleases me greatly.
What do you hope to gain from playing NS&V?
If we walk away with one new disease or infection each, we'll be happy.
What else do we need to know about Horse Party?
We're without doubt the greatest band who ever lived, and the worst liars.
Social media snapshot
We're always on facebook and regardless of reservations, like the fact that it's massively and obscenely intrusive, it's still the best one there is.
We have a twitter, which I resent but apparently you have to use it; we're @horsepartyparty but I will say that if you ever go there and read anything anyone has to say about anything, you're wasting your life.
We've got a website too, a bandcamp, a soundcloud and a YouTube.
I think that's everything. I can't really rate any of them as I resent the internet for forcing me to routinely sacrifice all the joy and human warmth in my soul in the name of flagrant self-promotion. That said, sneezing baby pandas never get old, so if someone can invent a social media platform that expresses news and emotions via various cute baby animals sneezing, I think we'd all feel much better about everything.
Who gets which Horse Party bit between their teeth?
Ellie Langley: guitar and vocals.
Seymour Quigley: guitar and vocals.
Shannon Hope: drums. We're hoping to get Shannon to rap and/or beatbox more in future, but she's like the shy girl in American teen musicals who hides her rad skills under a bushel.