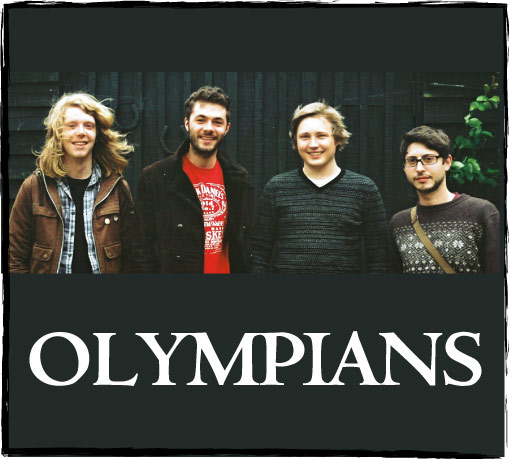 Check out Olympians' God-like hair (Ed), beard (Ben), jumper (Dan) and specs (Chris) on Sunday 01 August, when they'll also perform some songs.
Olympians play wombatwombat's Waterloo Park walkabout 8 on Sunday 01 August 2010
Olympians' sound is best described as...
...the national anthem of every country in the world mashed together into a guitar-fuelled, loins-stirring pop epic. Played really fast.
...and if your music were a superhero, what would it be able to do?
Run slightly faster than everybody else, while completing fiddly maths equations in its head. It may also convince you that you need a new T-shirt with our name on it.
What are the three most important things we need to know about Olympians?
1. We have some recorded tracks heading for release.
2. We are very friendly so come and have a chat.
3. We are not accountable for any agreements made in said chats, particularly those involving money.
Apart from sounding great in the sunshine on Waterloo Park's bandstand, when else is your music best enjoyed?
Olympians is best served at 12-14°C, straight up with a dash of lime, and a long drag on your favourite commercially available brand of Cuban-style cigar. Or when you're crying in your pants on the stairs at a party because nobody likes your shoes.
What are your plans for the rest of 2010?
We're going to release a couple of singles and play some gigs and make a video and have a shave and write some new songs, then throw them away, them write even newer ones about dogs and cats and feelings, and record those, and not tell anyone, then record some others about top hats and whisky and tell Susan that we always loved her and we're sorry and that we never wanted things to turn out this way.
Olympian activities
Chris drives a Prius.
Ben cooks bacon.
Ed plays strategy games in the dark with a towel on his head.
Dan does everything else.
Onward, to Olympians' blog for God-like rantings or head over here for their champion sounds.