Dry the River headline wombatwombat on Saturday 12 May 2012 @ NAC
Dry the River's first gig – when it was just Peter and an acoustic guitar – was at one of Norwich's crypt venues in autumn 2009: what were your plans for DtR then and where did you imagine your music career might have taken you by May 2012?
We had no idea. I [Matthew] played a couple of gigs with Pete singing backups on that tour. We played the smallest nooks! We did one show in a T-shirt shop in Birmingham. Back then we wanted Dry the River to be a restrained, stripped-back folk affair. I don't think at that point we would have envisaged it becoming what it has…
What have been the most important factors in your success to date and how have your experiences of being in other bands helped shape your chosen route?
We were lucky with getting help from people like our management and agent – they helped us early on without asking for any percentage or payment, just because they wanted to help us. That allowed us to get good gigs, and I also think having that faith from people early on spurred us to put all our efforts into making the songs the best we could. We toured really heavily and that also made us improve. Playing in other bands I think was important because it just meant we knew what to expect from touring. Sleeping on promoters' floors and playing to ten people a night – we knew we had it coming, but we believed in the songs so we did it anyway. We had the experience to know it was a means to a beginning!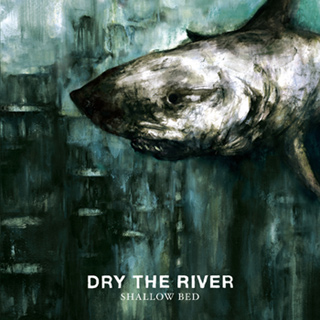 Shallow Bed is a mixture of old and new songs: given your hectic tour schedule, how easy is to write and demo new songs, and when is album two scheduled to drop?
It's very difficult! We've scheduled a week next month to work on new songs… some are starting to come through now. We'd really like to get the second record out in the first half of next year. As you say, a lot of the songs on Shallow Bed are pretty old. We really want to get some new songs out there! Hopefully we'll be playing some live before the year's out.
The rest of 2012 is already looking pretty busy for the band, what are you most looking forward to?
All of it. There's not one bit more than another… Festival season will be fun as we're playing bigger stages than we ever have, but we're also looking forward to the rest of the touring we've got lined up! We loved our trip across America so going back over there will be fun – the audiences there are crazy.
Which other bands have you most enjoyed playing with and why?
Pretty much all bands we've toured with have been awesome. Playing with The Antlers and Bowerbirds was cool, those guys are super nice, and amazing to watch every night as their musicianship is really inspiring. In this country we like playing with Tall Ships, Dancing Years and Dog is Dead as they all have incredibly dangerous dance moves.
What have been DtR's best and worst experiences on tour?
On the USA tour I met Frightened Rabbit's manager who took a couple of us to the beach in LA and had a guy from Lightning Bolt Surf Shop teach us to surf. That was awesome, and recent. And I was pretty good at surfing. Our bad experiences have all involved the police in some way so I probably shouldn't continue with those!
DtR's visual representation is consistently very strong – whether it's the artwork for the releases, your promo videos, or the 3D paper sculptures and the electronic string art posters – how much input does the band have in the creative process and what's with the frequent use of animal imagery?
We've been very fortunate to work with some really creative and brilliant people on our art. Corin Hardy on our videos, Dave Lupton and Steve Milbourne, among others, on art. We liked the idea of using pictures of animals as a theme – as that's quite a 'folk' trait – but we wanted to make the animals really primal and to have the scenes very tense, like they were at battle with predators or with some force…
Peter's birthday falls on your Norwich gig: how would the band normally celebrate such an occasion and what are your plans for 12 May?
Peter is actually a little annoyed, because we have to leave to go to Rotterdam at 6am the next morning. We might stay up partying 'til then if Norwich can convince us that it's a good idea.
You've done so many interviews in the past year, what question do you never want to be asked again…
Either 'So, tell us how the band got together' or 'Do you get annoyed being compared to Mumford & Sons all the time'. No! We get annoyed being asked that!
…and what would you like to exclusively reveal to burrowing zine?
I would like to reveal that Scott has been writing his set list on a different item every night on this UK tour and auctioning it off to the crowd in exchange for another item. We've had a butcher's hat, a chapatti and a woman's vest recently.
Social media snapshot
Which social media do you use and how do you rate them in terms of the best way to promote your band, with 1 being the best?
| | | | |
| --- | --- | --- | --- |
| Ranking | Social media | URL | Anything to add? |
| 1 | Twitter | | We all live on twitter. It's full of nutters. So entertaining. And the most instant way to talk to people. Love it. |
| 2 | Facebook | | Very entertaining. Ours is full of boring pictures of us in America. It's great. |
| 3 | YouTube | | I like watching people cover our songs here. YouTube comments are the most bizarre and hilarious things in the world. |
| 4 | Soundcloud | | I like Soundcloud and Bandcamp because that's how I check out new bands on the road. |
| 5 | Website | | This pulls it all together nicely enough. |
Who and what the River?
Jonny practices drumming, Pete eats loads of food and never gets fat, Will plays violin and is really nice, Scott hits on girls and eats crisps, I mope about, complaining, and our tour manager Simon does all of the work.