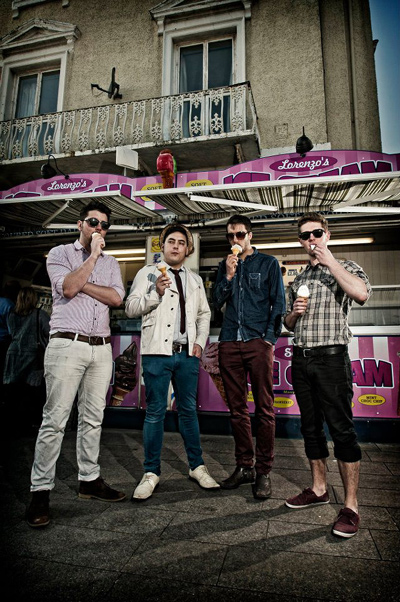 Kings & Crows play wombatwombat on Friday 14 September 2012 @ NAC
online tickets from the button at the bottom of this linked page.
What does your name say about your music?
Not a great deal! We didn't want to be tied to a genre, so we wanted something that encompassed our three tenets; beaks, punctuation and regality without sounding too much like an archetypical name that would limit us to a set sound, like "The Biddly Bops", "The Twangity Twang Twangs" or "Stella and the Wifebeaters". People don't usually know what to expect with Kings & Crows, except for metal bands, some of which think that we are a metal band.
And what does your music say about life?
It puts a big thumbs up to it! We sometimes take pretty grim subject matter and paint a big, stupid grin on its face. After all, the best way to cope with anything is to point and laugh at it. For example, we're writing this incredibly upbeat song about a lady with no legs who puts her head in a gas oven and lights up a cigarette – it's a tragically true story, but it's guaranteed to put a smile on your face!
What exactly does your own description of your sound – "naughty indie pop with a dark underbelly that likes to be tickled" – mean?
We try to be upbeat about everything, but work in tongue in cheek black humour. Just imagine if Stanley Kubrick directed the Wizard of Oz; we'd have been like "Stanley, Stanley, please let us do the soundtrack, please!!!" and he'd have said: "No, you dress like juvenile homosexuals, get off my property you blasted ne'er-do-wells!"
Rumour has it you'll be showcasing some cheeky new material tonight – please tell us more, including when and where we'll be able to get hold of an actual copy.
Sure thang, we've got two new songs to play tonight! One is called We Need Some Spanish Steel it's probably one of the most dance floor/mosh pit-friendly songs we've written. The other is called How the Many Ate the Few and it's about the internal monologue of a man who was trying to win back the love of his life, but he is currently being eaten alive by cannibals so it casts a spanner in the works somewhat. We'll be releasing those two before the end of the year on CD or download.
Kings & Crows have been going for about a year, what have you achieved during that time and what are your plans for the next 12 months?
We ended up sharing a stage with Little Comets, Reverend and the Makers, Pigeon Detectives and a whole load more at Play Fest this year, which was a marvellous experience! We've found the time to gig at almost every venue in Norwich and write more songs than we can fit into a set, so our shows always vary in content and we're now working on our second EP. We've made a little name for ourselves and 2013 will see us spreading beyond Norfolk, releasing our album and a filming couple of videos.
Social media snapshot
Which social media do you use and how do you rate them in terms of the best way to promote your band, with 1 being the best?
| | | |
| --- | --- | --- |
| Ranking | Social media | URL |
| 1 | Facebook | |
| 2 | Twitter | |
| 3 | Reverb Nation | |
| 4 | Soundcloud | |
| 5 | YouTube | |
Kings & Crows
Ben Wong: child safety officer.
Owen Reynolds: admin and clerical support.
Mick Waring: treasurer.
Adam Bennett: designated first-aider.