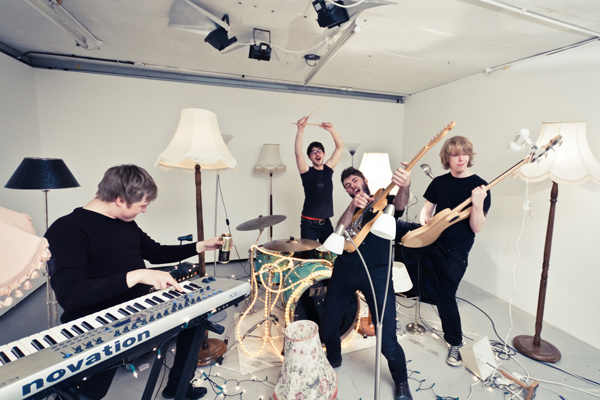 Champion musicians all, l-r: Dan, Chris, Ben and Ed.
Olympians play wombatwombat's Peel Day celebrations on Friday 07 October 2011 @ NAC
What have you been up to since January's release of To Our Wives And Sweethearts EP?
I think a more fitting question is 'What HAVEN'T we been doing', to which the answer is 'doing enough gigs, practicing enough or writing enough new songs'. Fortunately we did pop into the studio with D Pye to record our forthcoming single, otherwise the last six months would have been a massive waste of time. Since we did that we got all excited about being a band again and did lots more things.
Please tell us a bit about your new material…
Since recording the EP, which was last July [2010] admittedly, the stuff we've been writing has taken a bit more of a song-based bent, as instead of jamming and then trying to bend what we did into songs, we're starting with songs, taken them into a room then systematically ruined them by trying to out-do each other instrumentally and vocally. Our new single Wake Up Old started as a gentle song, basically written to ourselves, encouraging ourselves to stop being lazy and do something tremendous before we are decrepit and useless. Then once we got into the studio it all got a bit out of hand, and we covered it in layers and layers of instruments and vocals shouting 'bum' a lot. I hope other people find that as uplifting as we do.
[Wake Up Old is released on Monday 24 October through Barely Regal Records, which is run by Isaac and Matt from the rather wonderful Among Brothers. There is a video to accompany the single AND lots of remixes that will be made available in the run-up to the release: keep your eyes peeled and ears to the ground! And then take your money out of your pockets and give it to Olympians, Ed].
How excited are you about playing Huw Stephens' SWN Festival…
EXCITED AS FUCK! Only been to Cardiff once, and it was raining, and drank some homemade cider out a paint tin, so this time is going to be great because we'll all probably remember what happened and not wake on a stranger's floor covered in piss.
…and who else are you looking forward to seeing there?
It's really ace, cos we're playing on a stage with Among Brothers from Cardiff, with whom we recently played a birthday party, and are ACE, and Theo who is a loop-based guitar and drum titan who we've put on in Norwich in the past and is AMAZING. Those two alone makes a treat of a festival for us. Other than that, Three Trapped Tigers is the most exciting, although we're not sure which day they're on.
Which Norwich bands are you championing for success?
None of them. They're all pricks. (Come to our gig please.)
Actually. Death of Death of Death of Discotheque, Transept, and Maersk, because they're all remixing our new single, and that is a sure sign that are 'champions' and will 'success'. A band called The Soft are too, but they're from Bury St Edmunds, which is quite a long drive from 'the big time'. Deers are good too, and Cakes and Ale will soon play every beer festival in the world at the same time and that will be a 'champion success' in itself. I [Dan] really like James Elliot Taylor's songs and the massive harmonies his band do with him. That's a recipe for 'success' in our book too.
Which social media do you use and how do you rate them in terms of the best way to promote your band, with 1 being the best?
| | | | |
| --- | --- | --- | --- |
| Ranking* | Social media | URL | Anything to add? |
| 1 | Bandcamp and/or Soundcloud | http://olympians.bandcamp.com and http://soundcloud.com/olympians | Bandcamp is essential, soundcloud is great but full of techno goons |
| 2 | Twitter | | Essential tool for promoting your band to left-wing middle class people |
| 3 | YouTube | | Totally great. Vimeo is better but YouTube is better for attracting irreverent comments from Russians. |
| 4 | Band and/or label's website | | Websites are totally good |
| 5 | Facebook | | Sadly essential |
| 6 | Anything else | | Anything is better than myspace |
| 7 | Myspace | No | An object example of how to make every single band in the world hate you. |
* 1 = best
What happens in team Olympians?
Dan writes some songs, and plays them on a guitar. He gets together with Chris and Ben, put more instruments like bass and keyboard and more guitar and singing on them, then, when they're 'cooking', Ed jets down from Londres with his drumsticks, we get into a room for 10 hours and dip the whole thing in hulking riffs.