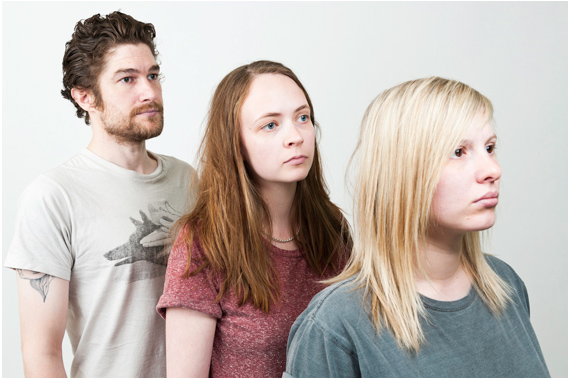 Fever Fever play wombatwombat on Friday 17 June 2011 @ NAC
Teeth, from your forthcoming debut album, is available as a free download from bandcamp: how has it been received and why does everyone need a copy?
The reaction to Teeth has been amazing. Got a lot of tasty feedback for it which is ace because the stuff we're writing at the moment is a bit of a departure from where we were say a year ago. We feel like Teeth bridges that gap between the old and the new like glue. Plus it was super fun to record, lots of experimenting with drums and organs and teeny amps. You need a copy on your music player because its three minutes of exactly what we're about as a band. And the price is right.
What else can you tell us about the LP?
We're working hard on it at the moment, getting as many new songs together as possible. We've always tried to find the balance between creative control and spontaneity, so that's something we're really honing in on now. We want it to feel like a full body of work, which feels pretty rare nowadays in terms of putting together an album. She will be a dangerous but cohesive beast. We're recording it with Rob (PJ Harvey, Anna Calvi) Ellis, he is a super genius type and has his finger on our musical button so it will be pretty darn exciting!
This year you've rioted at Canadian Music Week, SXSW, Gaymers Camden Crawl, Liverpool Sound City and Playfest at Quidenham in rural Norfolk: what were the highs and lows of each and which other festivals are you eyeing as a tasty playing prospect?
Canadian Music Week: Sure.
SXSW: Greatest thing we have ever done. EVER.
Camden Crawl: Treated like pop stars and plied with tequila beer.
Liverpool Sound City: A royal knees up – Norwich tore it up! Super fuuuuuun.
Playfest: It rained. But the old man was NOT snoring. A well-oiled ship and amazing to be on big ol'stage WITH smoke machine. Lots of free beer too. And a ride on a golf buggy.
We want to play EVERYTHING! If we got the opportunity to play at an ATP festy then that would be pretty much a dream come true.
Which bands have left an indelible impression on you during your globetrotting?
Molten Lava, who we saw in Canada, so good they managed to get Smit wearing vests.
Austra, also from Canada: this band is a coven of witches and totally engrossing, totally hot. Like Fever Ray mixed with Eurythmics – that is a compliment.
Watching The Joy Formidable play an acoustic set at SXSW inspired us to get the hollows out strum like Julie Andrews, which we NEVER do.
Fight Like Apes who we played with in London are so freaking good. Unbelievable live. We saw them and pulled our fingers out... yeah.
Social media snapshot
Which social media do you use and how do you rate them in terms of the best way to promote your band, with 1 being the best?
| | | | |
| --- | --- | --- | --- |
| Ranking | Social media | URL | Anything to add? |
| 1 | Facebook | | Not really designed for bands... but it is the boss hoss. |
| 2 | Website | | YOU NEED ONE. Even if it's just to group everything you have scattered around the internet in one place. |
| 3 | Twitter | | FUUUUUUUUUN! |
| 4 | Bandcamp and/or Soundcloud | | Better than Myspace. Can't decide which is better so we have both. |
| 5 | YouTube | | Apparently the biggest music site in the world but no one will admit it. So probably pretty important to be on there, right? Although we use ours more for japes rather than music. |
| 6 | Myspace | | Unusable. Sad times. |
Who's responsible for cranking it up to fever pitch?
Rosie sings and plays guitar. Ellie plays guitar and sings. Smit bangs the drums.