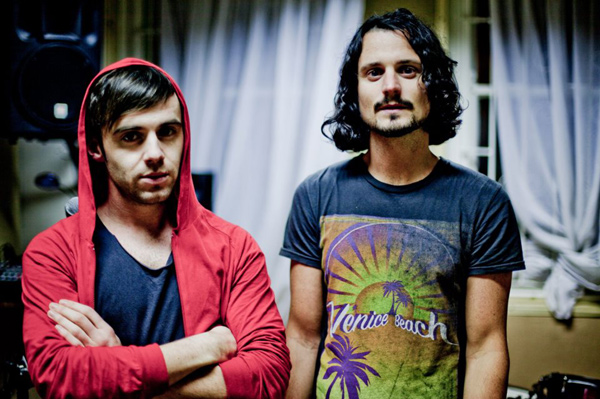 We Cut Corners © AAA Photos
We Cut Corners headline wombatwombat on Friday 14 September 2012 @ NAC
online tickets from the button at the bottom of this linked page.
We Cut Corners: for fans of…
Ryan Adams, brevity, The Walkmen, quiet, Titus Andronicus, loud, Joanna Newsom.
There's bound to be intrigue and possibly some confusion at the diverse style and delivery of your music – from mega-loud ranting and raging to lo-fi folk-tinged pop but always with killer singalong lyrics and the hookiest of hooks – how deliberate is this musical schizophrenia and what makes it such an enticing proposition that the people of Norwich really have to check out We Cut Corners live?
It's not deliberate at all – we really treat every song as an autonomous entity that is in no way obliged to sound like its siblings. When settling on the songs that would appear our album we could have picked 10 quiet songs but that wouldn't have been representative of what we do, hence the mélange.
During our live show, the quieter songs give the set an undulating quality and provide moments of respite amidst the faster, louder tracks.

Buy this gobsmacking album direct from The Delphi Label using this link
You're playing wombatwombat as one of a limited number of dates to help promote the UK release of your debut album, Today I Realised I Could Go Home Backwards, a year after it hit the streets in your native Ireland to critical acclaim and began a buzz on either side of the Irish Sea. Having already played well-received high profile showcases this year, eg Eurosonic, The Great Escape and Southsea Festival, what do you hope to achieve as a result of this current run of gigs…
We've found UK audiences really receptive to our songs and we're keen to make our visits here a more frequent occurrence. It's such a fertile environment for music and to dip our collective toe therein is a really exciting thing for us.
…and which tracks will be blaring in the tour vehicle for your road trip?
Bombay by El Guincho
Oh Sailor by Fiona Apple
Hold My Breath by Holy Ghost!
Psychic City by Yacht
Snowy Atlas Mountains by Fionn Regan
What inspires your songwriting and how do you share responsibility for music and lyrics?
Every song has a different genesis and gestation. Some begin as drumbeats, others as simple piano motifs, which gradually germinate into fully-grown songs. Being a spectator/participant to that germination is possibly the most exciting aspect of being in a band.
Which WCC lyrics best reflect John and Conall as individuals?
"It is a brave new age and I've been cowering in the corner" from Are You A Man Or A Mannequin?
Please tell us a bit about your amazing array of videos…
We've been terribly spoilt in having worked with some amazing artists who have shown incredible creativity, ingenuity and generosity in taking our songs and creating visual foils for them. They range from graphic, stream of consciousness animations to the more abstract, 3-D study of Polaroid photos by the German artist Axel Roessler for our song Yet.
Which other duos share some kind of affinity with WCC?
I believe we share a certain numerical affinity with the majority of musical duos.
What else do we absolutely need to know about WCC?
We wrote our first song together aged 19. It is a six-minute power ballad called Conall and John's Song. Shortly after its composition, we moved to Austria together to study and, instead of writing more songs to accompany it, we just played it over and over again. It's emotionally earnest, lush in its orchestration, formulaic in its movements and everything we've ever done since seems to be a reaction against and, simultaneously, irrevocably tethered to it.
It's puzzling.
Which other Irish bands should we tune-in to?
There's a guy from the south-west of the island called Deaf Joe who makes the most beautiful Sunday morning music. So beautiful, in fact, that we listen to him on other days of the week too.
Social media snapshot
Which social media do you use and how do you rate them in terms of the best way to promote your band, with 1 being the best?
Ranking

Social media

URL

1

Label's website

2

WCC website

3

Facebook

4

Twitter

YouTube and/or Vimeo We don't have our own channel but have found these media to be central to spreading word on the band.
Who cuts corners?
Conall sings, plays drums and sometimes keys.
John sings and plays guitar.