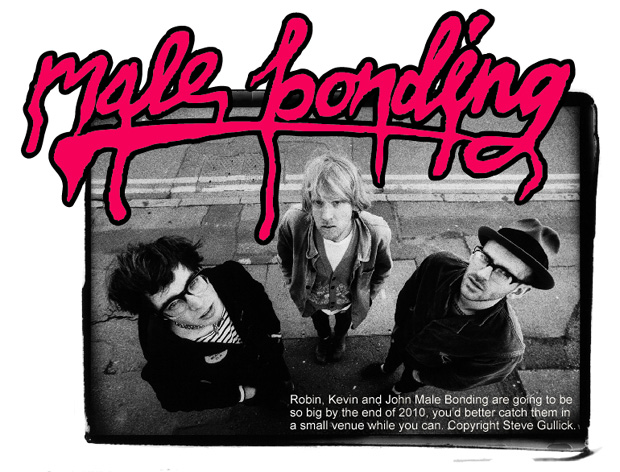 Male Bonding headline wombatwombat on Friday 11 June 2010 @ NAC
What are the five most important things we need to know about Male Bonding?
1. Nothing
2. Is
3. Ever
4. That
5. Important

You're signed to the legendary Sub Pop label: please share your thoughts about the importance of keeping DIY culture alive and supporting events like Record Store Day.
It was putting out our own records/tapes and running out own label that brought us to the attention of Sub Pop. So that's testament to the benefit of doing things yourself. Also you just do things how you want to do them. Treat yourself how you wish to be treated. And then it's a much more interesting culture. It seems obvious really.
We've all worked/work in record stores: they brought us together. They are still important and still have a relevance that has adapted to the way music commerce had changed. It's good to celebrate Record Store Day. We were in LA and played at Origami Records, Echo Park. It was a good day. Lou Barlow played too. All over, tons of people came out and hung at record stores. Across the city, Slash was signing his book at Amoeba Records. All for the record store.
Please tell us about the highs and lows of your lengthy March/April US tour.
Highs:
1. Detroit's Heidelberg Project.
2. Adirondack, NY – kayaking and drinking from growlers.
3. Los Angeles – the most fascinating and stimulating and welcoming city.
4. Columbus, Ohio – dog walk solace.
5. Playing with amazing bands: Soft Pack, Vivian Girls, Dum Dum Girls, Smith Westerns, Beaters, Dunes, Nodzzz, Silk Flowers, Happy Birthday, Gun Outfit... and more.
Low: smash and grab in Montreal.

Male Bonding will be hitting St Benedict's Street on Friday 11 June 2010 and cordially
invite you to join them. Copyright Steve Gullick.
What's your advice for new bands?
Please don't put your life in the hands of a rock and roll band.
Which new bands do you rate as ace?
Gun Outfit, Eternal Summers, Dunes, Let's Wrestle, Veronica Falls.
As if the band's psyche, being loved by Huw Stephens and signed to Sub Pop didn't offer enough credibility...
...here's what some other so-called tastemakers have to say about Male Bonding:
"Male Bonding find the perfect home in Sub Pop records and release a blinding debut album. It sucks up all the best 80s hardcore influences – extracting those genius parts of Minutemen and Hüsker Dü that make the hairs on the back of your neck stand on end – and blending them with their own punk sensibilities and occasional shoe gaze /psyche tendencies.
The production is choice too – rough cut without ruining what are exceptionally catchy melodies and hooks.
Album of the year so far." (artrocker.com)
"With the Americans doing the lo-fi/no-fi thing fairly damn well it's nice to get a bit of English representation... Their show today is rabble-rousing in the most literal sense as thirty or so fresh-faced fans clamber onto the stage attempt to dance but actually get in the way... If Vivian Girls were boys, they'd be Male Bonding." (drownedinsound.com)
"Two-and-a-half minutes of surf-grunge that somehow manages to be frantic, lo-fi, anthemic and introspective all at once." (nme.com)
Which instrument bonds with each male?
John: guitar, vocals.
Robin: drums.
Kevin: bass, vocals.
Get into Male Bonding at their myspace and blog
See you down the front on 11 June: you so need to be there dudes.