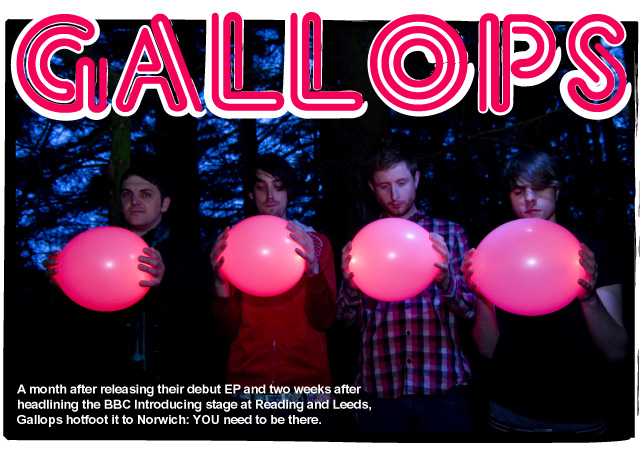 Gallops headline wombatwombat on Friday 10 September 2010 @ NAC
To what extent does your name reflect your music and why did you decide to go for a mash-up of riff- and rhythm-heavy instrumental post-rock and laser-guided cyborg soundtracks for space travel?
The name actually has nothing to do with the music. It's just a name that we picked at random and has no deeper meaning. In fact, we're not sure what it means. We didn't really decide to go for any particular sound; it has naturally developed this way. I'd say an important factor that has contributed to our sound is that we're all from a generation that grew up listening to heavy music and playing Sega and Nintendo. Those early game soundtracks have had a big influence on our compositions subconsciously!
What's your advice to new bands that are keen to play something a bit different from any perceived trends?
I wouldn't say we are in the position to give anyone advice about anything at all! This is a difficult one. What I would say is that if you're consciously trying to hard to be different then I think you're missing the point. Just be yourself.
To what extent has support from BBC Introducing helped Gallops? Who or what else has been important in getting your music heard?
BBC Introducing has been invaluable to us and I doubt we would be where we are now without their help. Getting national radio airplay is obviously important when establishing yourself as an artist. With people like Bethan [Elfyn, BBC Introducing in Wales], Huw [Stephens, all over Radio 1] and Adam [Walton, BBC Wales] working on the radio pushing new music this all becomes achievable. All the fans, bloggers, promoters, blaggers and liggers are equally as important though. As are our labels, naturally.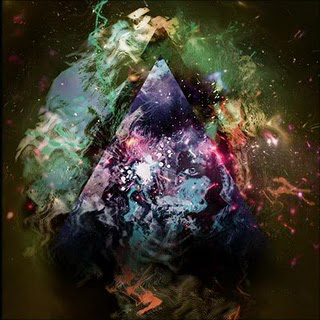 Please tell us about your new release and why every cool kid in Norwich should buy a copy...
It's actually our debut release. It's a five-track EP that we recorded in Cardiff earlier this year with Llion Robertson. It's a special split release between two labels, Holy Roar Records and Blood and Biscuits. It's a limited edition with fancy packaging so all the cool kids should snap them up. Otherwise, they will be kicking themselves when all their cool kid friends are selling their copies for hundreds of pounds on eBay next year to Japanese hyper-fans. The songs on it are pretty good too.
Apart from sounding great in a venue that was a medieval church, ie NAC, when and where else is your music best enjoyed?
In outer space would be good. In the future's past...
Which other Welsh bands should we be listening to and what makes them special?
Mother of Six, a doom troupe from our hometown, are most definitely worth checking out. They make some great music; Wrexham's finest without doubt. Also, our drummer Dave has a side-project called Orient Machine that you need to hear. Both are great bands doing their own thing and doing it well.
What else do we absolutely need to know about Gallops?
None of us have got a clue what we are doing. Everything you see is pure fluke.
Who plays really fast on which instrument?
Mark Huckridge: guitar/keys.
Paul Maurice: sequencer/sampler.
Dave Morait: drums.
Brad Whyte: guitar.
Rush over here right now to sample the sound of droogs with noisy woise and drum gubbins... brother, then buy your gig ticket from NAC, Soundclash or UEA.
"Gallops are that rare beast that straddle rock and dance music with the utmost taste. They seamlessly blend organic and synthetic in an intelligent manner... You can dance your fucking tits off (mate)... Gallops rock like a Friday night in the car with Wayne and Garth." (Holy Roar, a label that has helped kick-start the career of many great bands. Hello Rolo Tomassi, The Ghost of a Thousand, Gallows, Maths et al.)