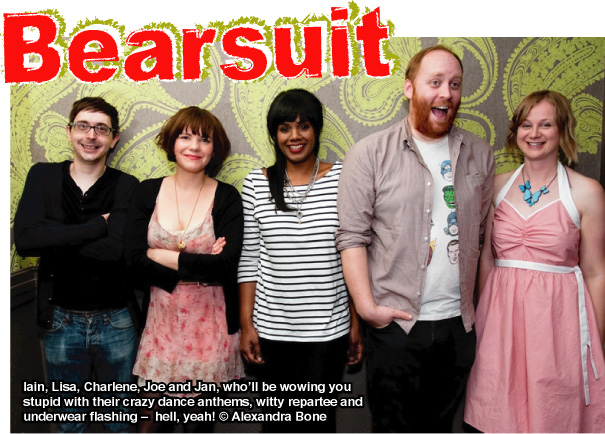 Bearsuit headline wombatwombat's 10th birthday and Christmas party on Friday 10 December 2010 @ NAC
Eeek! Ten years of Bearsuit! What memories do you have your first wombatwombat appearance, opening our second ever gig on Thursday 25 January 2001 at the Ferryboat?
Lisa: It was completely nerve-wracking and exciting because it was our first gig to a paying Norwich crowd who weren't just our mates or other students. For that gig, Bearsuit was me, Iain, Jan and our old bassist Matt Moss, as well as Phil (Transept) Archer operating some samples and playing a record backwards, and Emma (now a top reporter with the EDP) Lee on shakers and a triangle. We played the five or so songs we had, painfully nervously, but got signed to local label Sickroom Gramophonic Collective off the back of it, released Hey Charlie Hey Chuck a few weeks later, and the rest is, er history. So, we didn't know it at the time but it turned out to be a really important show!
Oh and we also had a falling out with PostaLowa which sparked a feud with Mark (Master Solo) and James (Tiger MCs) that runs dark, bitter and bloody to the present day;)
Iain: wombatwombat gave us our first couple of breaks on the Norwich scene, and it's amazing we're both still here considering the supposed state of the music industry.
Charlene: Eeek, well although I didn't play with the Bears then, I headlined the FIRST EVER wombatwombat with Kensuke Kimachi. I remember being very young, very nervous, very drunk and enjoying every bit of it.
How have you changed as a band since then?
Lisa: Well, obviously the line up has changed, but I think at the start the whole thing felt like a complete experiment. None of us had really played in bands before, so even really simple stuff like playing a guitar felt brave and new and exciting.
Because we didn't have much experience making music in the traditional sense, sampling mating squirrels, using Lego for percussion, or deciding to have a song with glass-ringing on the chorus, was no different to us than playing a guitar or shaking a tambourine.
We've had some significant line-up changes over the years – I counted a total of 19 past and current bears the other day! – and our sound has got a lot bolder and tighter as we've got more confident with what we're doing. We've definitely progressed with every album, to the point where we've now gone completely the opposite direction by stripping right back to just playing drums, guitars and synths – but it still feels every bit as brave and new and exciting.

Bearsuit spot Queen Kwaa Kwaa and Princess Oread making their way through The Phantom Forest – you can meet both and follow their adventures next year when the album's released.
Please share the five most important facts about your forthcoming album, The Phantom Forest...
1. It was produced by the fantabulous Gareth (Go! Team, Breeders, Foals) Parton.
2. It's a concept album, whatever that means. Among other things, it details the journey of Queen Kwaa Kwaa and her daughter, the feisty Princess Oread. Expect tales of an overthrown monarchy, rescue missions, mythical creatures and prehistoric beasts. EastEnders it ain't.
3. The 'Wilhelm scream' features on EVERY SINGLE TRACK! I think we went a bit stir crazy towards the end.
4. It's due out early next year on Fortuna POP! So look out for it yeah?
5. Phat Tomatoes is an anagram of The Phantom Forest... err, OK... I'll stop there.
What's the latest news on you playing SXSW next March and how did it benefit you in 2009?
Charlene: Well we've been invited to play 2011's SXSW but we're finding out if we can get the funding to get over there... fingers crossed. Last year was great as we managed to play some lovely showcases, which meant more people heard us in and outside of the music industry and we got more press coverage both in the US and back here.
What'd be on the menu at a Come Dine With Bearsuit festive feast...
Jan: It depends who's cooking. If left to Iain, it would be delicate hues of mostly white with a bit of yellow and brown – so, a medley of potatoes, crisps, chips, bread, rice, and pasta, with a side of sweetcorn, and fig rolls for pudding. Plus red wine for a splash of colour. There of course would be entertainment: dancing girls and foxy boxing.
...and who'd feature on your accompanying mixtape?
Doobie Brothers; Schneider TM; Hall & Oates; Liquid Liquid; Phoenix; DNA; Fischerspooner; Sleigh Bells; Curtis Mayfield; Metronomy; Vampire Weekend; MJ.
What are your most memorable band moments?
Jan: Bad: exhaustion breakdown live on stage in Coventry. Lisa: She went seriously mentals, it was scary.
Jan: Good: plenty of drunken sexy disco fun times with all the many lovely bears over the years. Force-feeding our soundman Captain Al gin through a funnel while he was asleep on a floor in the US of A.
Lisa: Playing at Emmaboda festival in Sweden and when we came off stage the crowd were all rammed up against the fencing screaming for us. It felt like we were the Beatles or something. The soundman cracked open his finest bottle of self-brewed blueberry schnapps and told us we were the best band to have played the festival since Pavement in '93.
Charlene: Going into a diner in Grand Rapids and finding 'Bearsuit Rocks' scribbled on the table. Sweeeet.
Iain: Bad: having to sleep in a Satanist's cubbyhole in New York with no plumbing or windows when the other half of the band got to sleep in a luxury hotel that night. And the sad realisation that Matt, Cerian and Richard had to leave the band a couple of years ago due to family reasons. It's like a weird divorce!
Good: Watching Nick Cave and Jarvis Cocker perform at a private gig for John Peel, and meeting the much-missed man himself. And the first time I noticed someone singing along, who knew the words to our songs while we played. I'll never forget that.
What's your advice to anyone without previous experience wanting to start a band in Norwich?
Charlene: Just do it!
Lisa: Just do it!
Jan: Just do it, do it, do it!
Iain: Don't listen to anyone telling you that you can't succeed because of where you come from. If you want to make money in music, move to London, Manchester or New York. But if you want to produce something truly special and unique, revel in your Norwich-ness.
You all make noise in Bearsuit, what else?
Charlene makes good fashion choices.
Jan makes light work of drinking heavy.
Joe makes good Flashdance moves.
Lisa makes dog owners edgy.
Iain makes all our arses bleed.
Roar over here for everything Bearsuit.