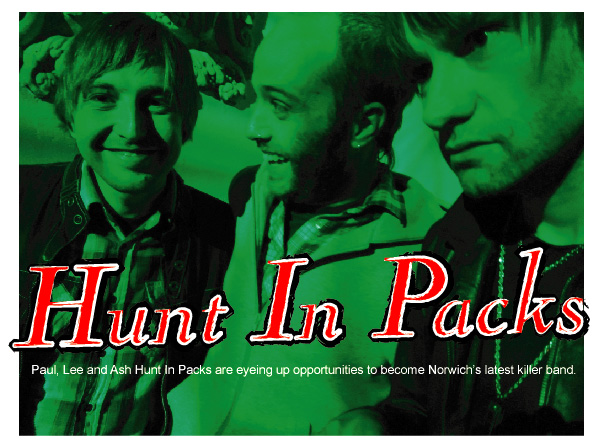 Hunt In Packs play wombatwombat on Friday 11 June 2010 @ NAC
As a new band with plenty of experience*, how are you shaking up the Norwich 'scene'?
I suppose you could call us veterans, we have been tearing it up in Norwich for a while under several different guises.
I think the main thing for us now is that we are finally in a position to be making the kind of music we have always wanted to make. We didn't really start this band thinking we needed to shake things up, there are a lot of amazing bands in this city, we just want to be one of them.
* assorted members of Hunt In Packs have been in The Pistolas, UH OHs, The Garys, Tape Invaders and Wonderful Allstars .
What does your name say about your music?
We wanted a name that was really in your face and quite hard. We are not hard by any means but our music will kick you in the face and then laugh at you.
And what does your music say about life?
Nothing really, our songs are mostly about girls. You know, happiness, misery, love and loss. The usual stuff.
This will be Hunt In Packs' second gig, why do people need to see you?
People need to come out and see us because we're three extremely handsome men who like to have fun on stage and hopefully the crowd will enjoy it. We're kinda like the Chippendales, but we aren't all muscly and oily although we can play instruments.
What do you want to achieve by the end of 2010?
We just wanna play loads of kick ass shows and hopefully still have our hearing by the end of it all. Which might be a problem, as we want to be louder than Spinal Tap. Oh and a nice little following would be good.
Who hunts in packs?
Ash sings and plays them low notes.
Paul sings backing vox, plays higher notes and dances.
Lee makes faces while moving his arms with bits of wood.

This is what it sounds like to hunt in packs