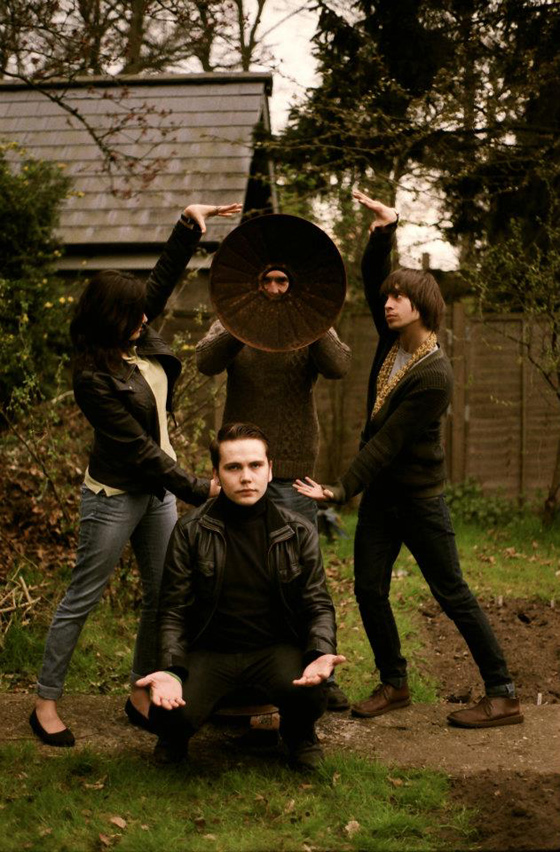 This image makes you think, doesn't it? Make sure you find out more by catching them live: buy an online ticket from the button at the bottom of this linked page.
The Thinking Men play wombatwombat on Friday 22 June 2012 @ NAC
Please give us a brief history of The Thinking Men.
Johnny and Ronnie started the band, we were in separate bands at the time but were best friends. We enjoyed the occasional jam but after a while discovered that we worked really well together and that we weren't bad at writing songs. We both decided it would be best to focus purely on this new, fresh project, which we named The Thinking Men. We came up with the name because we enjoyed mixing philosophical thoughts in with our music. From this basis we built up the band and roped in Sarah to play the keys, this just fuelled the fire and provoked our passion to a new level to write individual and alternative music. As a trio, we played some cracking gigs and even had the chance to do a mini tour of Serbia and Macedonia. In fact, Tommy didn't join until the beginning of 2012 after we had a re-evaluation of the band and decided we needed a drummer to make the sound bigger and more powerful. Johnny found Tommy's number in Cookes music shop in Norwich and gave him a ring, he had a listen and came to band practice. Since then we haven't looked back and we've never been more happy with our sound.
The Thinking Men's very individual sound is best described as…
We sound like the kind of music you would hear while having a BBQ on a summer's day, just before it's about to rain. Drawing inspiration from songwriters and blues legends in equal measure, we like to think we're trying to unearth the style of the '60s with a new modern twist.
Who do you think will best connect with your band?
We tend to cite Tom Waits, The Doors, Lou Reed, Jack White, Bob Dylan and Muddy Waters among our biggest influences, so people who listen to a similar style of music to us will probably appreciate our sound.
What would you like people to think after your set at wombatwombat?
We want them to feel that they have experienced music filled with passion and excitement, leaving them with a greater appreciation for somewhat older genres of music. We want the audience to leave whistling our tunes and wanting to listen to more of our music.
Please share your thoughts on the Norwich music 'scene'…
Music in Norwich at the moment seems to be very dominated by singer/song writers of a folk orientation, but has its fair share of indie rock bands owning the electric scene. Music in the 'fine city' seems to be very healthy at the moment with a buzz about it, but our intentions are to start a new scene of music with influences from bands of old, but with a new modern twist. We want to give our city a new and refreshing sound making us stand out from everywhere else.
Social media snapshot
Which social media do you use and how do you rate them in terms of the best way to promote your band, with 1 being the best?
| | | |
| --- | --- | --- |
| Ranking | Social media | URL |
| 1 | Website (bandcamp) | |
| 2 | Facebook | |
| 3 | Twitter | |
| 4 | YouTube | |
| 5 | Myspace | |
Three Thinking Men and a thinking woman…
Johnny is the lead singer and also plays electric guitar, Ronnie plays electric guitar as well and Tommy recently joined to play the drums. Sarah plays the keyboard and also sings backing vocals.