wombatwombat: celebrating 10 years, 2000-2010 and then some...
Since 12 December 2000, we've hosted shows at: the Ferryboat; the Waterfront; what was Norwich School of Art & Design (now NUCA); Paul wombat's garden; Norwich Arts Centre; Waterloo Park; in the Netherlands; North Walsham Rugby Club; the Nelson; in Serbia; and, at B2. If you're really geeky, the 'Previously' navigation button reveals our complete gigography and links to bands' web presence, which in some cases won't be entirely up-to-date.
And we have live gig footage of some of our gigs at youtube.com/ctwmnswombatwombat.
Anyway, enormous thanks to everybody that's been part of our promotions lark – sometime wombats Rhys, Sparrow and Lucy; the bands and their managers/agents/PRs; venues, in particular NAC and its tremendous team; all sound engineers: big-up Owen Magoo from Sickroom Studios for his amazing skills at the Ferryboat; media: especially Lisa Bearsuit when at Archant, and BBC Norfolk Introducing; NR ONE Records for putting out our compilations; numerous photographers and fellow promoter friends; all stockists of burrowing, notably Soundclash for being Norwich's best record shop: independent and stocking our bands' music – and, of course, our audience: thank you for coming, do come again.
Generally it's been good... awesome, on occasions – guess those will be the ones assorted members of team wombatwombat have picked below – and, inevitably, we've had some bad and ugly events...
...so let's start by mentioning some of our less special moments
Doze
My early VJing, where the visuals weren't suited to the music.
Taking all the gear upstairs to our Upstairs at the Waterfront gigs.
15 November 2002 @ the Ferryboat: Chris T-T, Swearing at Motorists, eLsuB, Estate Opinion – Estate Opinion were excellent, unlike their fans who trashed the venue at the end of the evening.
Steve
The Ferryboat getting wrecked by fans of Estate Opinion and almost everything we did upstairs at the Waterfront.
Annie Catwoman
15 November 2002 @ the Ferryboat – see above, so an unsurprising choice but only for the aftermath of the gig, which unfortunately also saw one of the bar staff being hospitalised; thankfully, he made a full recovery. But it has to be said, all the bands were ace and it was our first of several encounters with the very wonderful Swearing at Motorists, which will hopefully be resurrected when Dave Motorist isn't busy doing sound for Crystal Castles.
12 December 2008, wombatwombat's 8th birthday and Christmas party @ NAC: The Kabeedies, Popular Workshop, Kids Love Lies, Ducky Vodka, compered by Pikey Paddy and Tim Clare – sadly, another great evening's entertainment marred by a few members of the audience. How can it ever be acceptable to waste food or use it as a weapon? On this occasion some of the free buffet was smeared around the venue and, amazingly, supposed friends of The Kabeedies threw crusty French sticks at them on stage, managing to hit both Katie and Rory: WTF? This ignorant behaviour made sure the evening ended on a very sour note, almost earning us a ban from NAC and putting a stop to our festive buffets. Grrr.
On to the good times: team wombatwombat pick some faves...
Ben
22 September 2003 @ NAC: Camera Obscura, Fiel Garvie, Alto45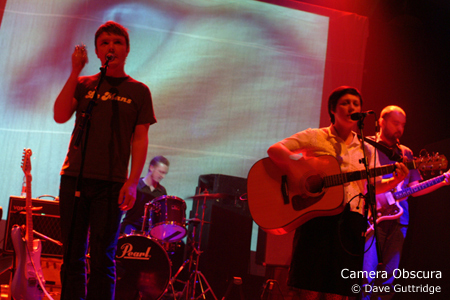 Camera Obscura's songs were simply beautiful and suited the Arts Centre auditorium perfectly.
Doze, in no particular order
22 March 2001 @ NSAD bar: Twinkie, FixitKid, Roswell, with Jyoti (White Town) Mishra DJing – it was the first time I remember seeing anyone DJ using a laptop. And it was SO LOUD it was impossible to have a conversation!
30 November 2001 @ NAC: Fonda 500, Bearsuit, Motel, The Edible 5ft Smiths – our first gig at the Arts Centre.
18 October 2001 @ the Ferryboat: TerraShima, Terms of Endearment, Benn's Little Rebellion, Antenna – TerraShima arrived literally as they were due to go on stage, didn't bother with a line-check, and were amazing.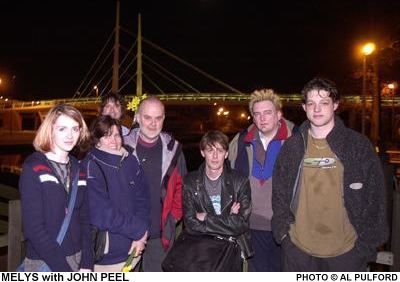 01 March 2002 @ the Ferryboat: Melys, Engerica, Benn's Little Rebellion, Luma Lane – Mr and Mrs Ravenscroft paid us a visit before whisking Melys back to Peel Acres for bed and breakfast followed by the Welsh wonders recording yet another session for John's show. [As it was St David's Day we'd decked out the venue with dozens of daffodils, which were gaffered to the rafters... amazingly, nobody got electrocuted despite the daffs dripping droplets of water and their stem goo all night, Ed.]
25 April 2002 @ NAC: Pinhole, Benn's Little Rebellion, Evader – this was fun because Evader chose to show a WWF wrestling match as their backdrop but finished before the end of the fight, leaving the audience puzzled about who won and pleading for the film to continue running so they could find out...
Plus
Any gig with HyperKinako, including a date none of us are sure of when Howlback Hum put them on in NAC's bar at wombatwombat – as it was packed to bursting their set was relayed by video to main hall.
Steve, in no particular order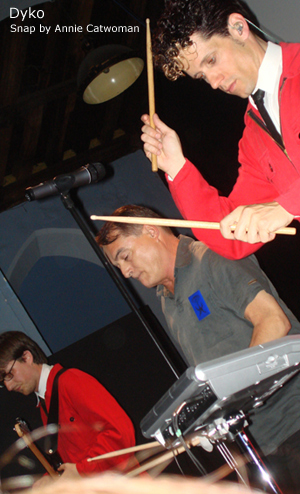 13 June 2008 @ NAC: Dyko, featuring Wolfgang Flür, ex-Kraftwerk, Vista, Rice 'n' Beans (aka Taxi) – I've always loved Krautrock so to have Wolfgang play then drink with us afterwards was magic.
23 January 2003 @ NAC: Jesse Malin, Jeff Klein and ...We Are The Dots – fantastic sets from Jesse and Jeff but also I remember Ben Dot trembling with nerves backstage before he went on to do a great set.
16 June 2001, Trowsebury in Paul wombat's garden: Magoo, KaitO and Goldrush – all up for it and played great sets.
17 December 2004 @ NAC: HyperKinako, Misty's Big Adventure and Swearing at Motorists – our best Christmas gig.
22 March 2001 @ NSAD bar: Twinkie, FixitKid, Roswell – FUCKIN' LOUD!! And we had that guy from White Town DJing.
10 March 2006 @ NAC: The Shortwave Set, They Came From The Stars, I Saw Them, Goathoven – I loved TSS's first album and they more than lived up to it lived up to it live. [There was what turned out to be a false fire alarm as TSS were clearing up after their set, which added to the general excitement of the evening that also included a tombola with prizes provided by TSS, Ed.]
30 November 2001 @ NAC: Fonda 500, Bearsuit, Motel, The Edible 5ft Smiths – our first gig at NAC and a sell-out.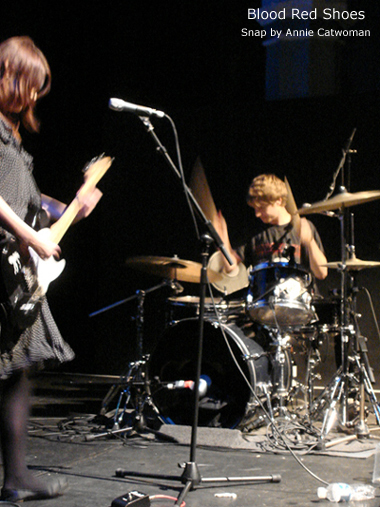 17 November 2006 @ NAC: Blood Red Shoes, Innocence Or Otherwise, The Incidentals – BRS played one of the best sets I've seen at NAC.
01 March 2002 @ the Ferryboat: Melys, Engerica, Benn's Little Rebellion, Luma Lane – our best gig at the Ferryboat. And Peelie was there.
28 July 2002, wombatwombat's Waterloo Park walkabout: Motel, Fiel Garvie, Evader, Oil Red O, >Palo Alto [sic], mAry [sic], Insaniac, Wrecked 'em – this was our first wombatwalkabout; it was fucking hot, the bands were great and it was my birthday.
Plus
Favourite wombat memories: our first gigs at the Ferryboat and NAC.
Annie Catwoman, on a year-by-year basis
12 December 2000 @ The Ferryboat: Kensuke Kimachi, The Charlie Horse, Crone – as our first ever gig, this was super-exciting; performers included Charlene Bearsuit in Kensuke Kimachi and Smit Fever Fever in The Charlie Horse!
04 October 2001 @ the Ferryboat: Snow Pony, Fiel Garvie, The Corrupters – Snow Pony... wow... the indie super-group that included Debbie (My Bloody Valentine) Googe, Katharine (Stereolab) Gifford, Kevin (Moonshake) Bass and Debbie (Curve and Echobelly) Smith, and which revelled in and rocked the lowly surroundings at the Ferryboat. Smith flailed her solitary corkscrew of hair throughout and swung from the rafters while wearing her guitar. Gifford was hotly pursued by female fans all evening and spat enormous fountains of water towards the ceiling as part of her stage show: surely, some kind of euphemism... This was a set of guitar and electro sleaze in excelsis.
15 March 2002 @ the Ferryboat: Miss Black America, Jetplane Landing, TerraShima, Cthru27 – it was JpL's debut Norwich gig and all bands gave amazingly edgy, passionate, performances, making it a winner by the slimmest whisker from the Melys gig two weeks before, when the headliner's perfectly timed beating of a road sign with a large hammer during their final song provided an aural and visual spectacular.
27 July 2003 wombatwombat's Waterloo Park walkabout 2: Stuffy/The Fuses, Cthru27, Parney, Rockastella, Click, Ruby Flipper, eLsuB, Aisle 16 comperes – another scorching hot afternoon in Waterloo Park, this one topped-off by some tipsy chap 'dancing' in the moat, aided by a plank of wood, for most of Stuffy/The Fuses' set.
15 October 2004: Norwich Fringe Festival @ NAC: Magoo, We vs. Death, PostaLowa, Aisle16 comperes – WvD were the first Dutch band to play wombatwombat and this gig came at the end of a 'wombatwombat-sponsored' mini-tour of The Netherlands for Magoo, Fiel Garvie and Bearsuit.
08 April 2005 @ NAC: Mika Bomb, HyperKinako, violet violet – what a lovely evening of J-pop and riot grrrl with a bit of anxious nail-biting: Anko Bomb travelled separately by train, arriving, as the rest of band said she would, in time to play their fourth song... but only just, having to be thrust through the sold-out venue to take the stage.
17 November 2006 @ NAC: Blood Red Shoes, Innocence Or Otherwise, The Incidentals – this bill worked really well, ending with our first stage invasion and BRS stealing my heart.
12 October, wombatwombat's Peel Day 2007 @ NAC: Rory McVicar, Ill Ease, Wintermute, Little Red Box – this was a delicious double-headliner that featured an exclusive track-by-track full band set to launch Rory's debut album and a stunning one-woman show from the multi-instrumental rhythmtastic Ill Ease. It was also the first Norwich gig for Leeds-based mathletes, Wintermute – check out their only album, Robot Works – and an early performance for Little Red Box, who wowed then and continues to do so today as Girl In A Thunderbolt.
01 April 2008 @ the Waterfront: Blood Red Shoes, These New Puritans, violet violet – all three band were superb and BRS further consolidated their popularity in our fine city, enjoying a legendary mega-stage invasion in the process; keep an eye out for Cheri violet and violet Fliss, plus Steve Lady Panther in this video footage filmed by Paul Soundclash.
11 December 2009, wombatwombat's 9th birthday and Christmas party @ NAC: The Joy Formidable plus hand-picked supports Hasikara Smile and Faster Than Robots, compered by Tim Clare and John Osborne – it was our second TJF gig and only our second show to sell out in advance; TFJ played two sets, the first being an early evening spell-binding three-track acoustic session in Soundclash, followed by a roof-raising 45-minutes of life-affirming joyous noise and a boisterous aftershow 'til 6am: that's my idea of an awesome night.
Friday 08 October 2010, wombatwombat's Peel Day celebrations @ NAC: Fever Fever, Islet, Death of Death of Discotheque, compered by Seymour Patrick – with three of the best rising bands to make their mark on 2010 and the appearance of Miss Black America/Ten City Nation's frontman, who also DJed, this was a Peeltastic evening. Tonight also marked the launch of Fever Fever's The Bloodless EP, setting a very tasty scene for 2011 when Fever Fever will turn up their heat to molten.