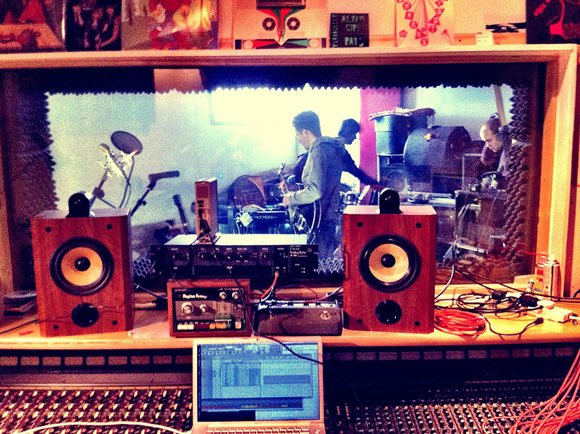 Online tickets from the button at the bottom of this linked page.
Among Brothers play wombatwombat on Friday 14 September 2012 @ NAC
We're super-excited to be showcasing your lush experimental music at the appropriately awesome venue of Norwich Arts Centre: for anyone that's unfamiliar with your sound, if it were a force of nature what would it be and why?
The power of love. It's the only force of nature we know.
What are the five most important things we need to know about Among Brothers?
1. We're not actually brothers.
2. We write and play music for our own amusement, and are still amazed that anyone actually likes listening to us.
3. We have an honorary female brother in the band. There's no word to describe this though.
4. Our typical van music while on tour consists of mainly Drive Thru Records' discography.
5. Jon has 11 fingers, which helps when playing piano flourishes.
To what extent has support from BBC Introducing helped Among Brothers?
BBC Introducing have been a huge help. With their support we've been able to play things like the BBC Radio 1 Big Weekend, and have our music on the daytime Radio 1 playlist. Pretty insane.
Who or what else has been significant in getting your music heard – how much of it is down to Isaac and Matt's label, Barely Regal?
There have been so many people that have had a helping hand in getting our music out there. Massive, massive thanks go to our manager, Jen. She's just the best. I think with the label, it has definitely helped, although what people don't realise is that it has been symbiotic progression, where us running the label has helped the band, and also us being in Among Brothers has helped the label.
What made Barely Regal, which until recently was based in Cardiff, want to work with Norwich/London's Olympians?
We'd always intended on expanding the roster beyond Cardiff and Wales, and when we first saw Olympians at the Old Blue Last in London, we thought "ohmygodtheyareamazing", so it felt like a natural thing to do. I'm sure Olympians have more of a presence in Wales now, and likewise with Barely Regal outside Wales.
You're playing the SWN Festival again this year: how important a fixture is it for Welsh bands and the UK festival scene?
We've always said that SWN is the festival is the highlight of the year in Cardiff, and every year it has always lived up to the hype. It brings the whole of the Welsh music scene together for four days, and takes over the whole of Cardiff. It really is amazing.
Which other Welsh bands should we be keeping an ear out for…
A couple of us are huge fans of Pipedream, who are basically starting where Jawbreaker left off. Attlaes is a brand new band/artist that's pretty cool. Alex actually did guest vocals on one of his songs. Kutosis and Samoans are a must!
…and which international bands do you have an affinity with and why?
Each member has common ground in a love for Sufjan Stevens and Anathallo, and of course Efterklang. We've all been absolutely obsessed with Team Me over the past few months.
What are Among Brothers' plans for the next 12 months?
We've got some really exciting things happening really soon, although we can't say too much right now! The long-term goal is to just keep writing songs and keep playing shows. Maybe venture in Europe…
Social media snapshot
Which social media do you use and how do you rate them in terms of the best way to promote your band, with 1 being the best?
| | | |
| --- | --- | --- |
| Ranking | Social media | URL |
| 1 | Website | |
| 2 | Facebook | |
| 3 | Bandcamp | |
| 4 | YouTube | youtube.com/amongbrothers seems to be broken but here's Keep and Loved |
| 5 | Twitter | |
Among which Brothers?
Alex: vocals, samples, synth, guitar.
Jon: vocals, piano, percussion.
Isaac: guitar, percussion, vocals.
Matt: bass, synth, vocals.
Adam: drums, percussion, vocals.
Sophia: sick riffs on violin, vocals.

© Jason Williamson