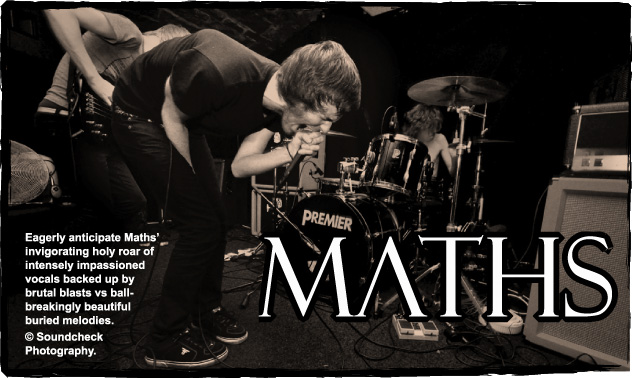 Maths play wombatwombat on Friday 10 September 2010 @ NAC
For anybody that hasn't seen you before, what can they expect from a Maths show?
MAXIMUM VOLUME.
Please give us the latest news about your forthcoming Holy Roar 7", Assent.
The record is planned for a late 2010 release and will contain four new tracks. The songs were written quite some time ago, at the same time as our full length, Descent, but they didn't fit in with the flow of the record. They are not b-sides though; in my opinion, these four tracks are just as strong as anything on the full length and the record will complement Descent when heard in succession.
Why is the DIY ethic so important to your band?
Well, we have never explicitly stated we are a DIY band, but... I suppose we are... We book 90% of our own shows, sometimes with help from a friend who runs an independent booking company. We have self-recorded almost everything we have released and we have put out several tapes and CDs ourselves. Doing things this way is just what works for us, and works for many bands all over the world.
What were the highs and lows of your summer tour?
We played some incredible shows in Southampton, Edinburgh and Liverpool, which will all stick in my memory for a long time. Being able to visit new towns and play in front of new people and old friends is always the tour highlight. Low points... when your car dies and you realise you have accidentally been driving 1000s of miles around the country for a week with no insurance or breakdown cover.
A few years ago, in response to a myspace comment, you said 'we're probably the least British band I know...'; what are you saying now?
We are just a group of boys that make music, we don't look to link our music to any other bands and I'm sure other bands think exactly the same. Obviously people draw comparisons between our music and other bands, but all I can do is repeat what I said to someone recently when talking about our influences: "Our music is just what we happen to come up with when we are in a room together... initially we were influenced by quite a huge range of bands, but now Maths itself and our love of the band is our inspiration to write new material. Sounds pretentious, but it's just how it is."
Who does the maths?
Alfie plays drums, Matt plays guitar, Nate plays bass and Zen performs vocals.
Brush-up on the sonics of Maths here and read the latest news using this link
Maths' current LP, Descent, and Maths-related product is available from their bigcartel shop, with lots more Maths music on sale from Holy Roar.