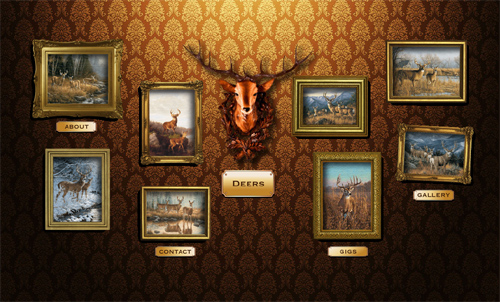 Deers play wombatwombat on Saturday 12 May 2012 @ NAC
How exciting is it to be opening a sold out gig for Dry the River, one of the UK's hottest acts?
It's a huge honour and one we're extremely excited about. To have the backing of some amazing local promoters who believe in us feels great too. Dry The River are about to explode and having the chance to play the Arts Centre again is fantastic too. We will be putting everything into this show, that's a promise!
And why should people make sure they arrive early to catch you?
Our live show has a little bit of everything. We love using dynamics to make the loud bits LOUD and the quiet bits pretty and intricate. We have three guitars and they create a lot of interesting textures so there is always something to hopefully keep you interested!
You took part in this year's BBC Introducing Masterclass: how has that benefited Deers and two what extent is that day helping to shape your plans?
It was great and a little awe-inspiring too! Being in a world-renowned recording studio with so many big names from the world of radio and the music industry was a great opportunity and Steve gave out CDs to Tom Robinson, Frank Turner, Steve Lamacq and various other people. We've since gained coverage on Tom Robinson's BBC Introducing: Fresh On The Net and we're slowly gaining more and more exposure. BBC Introducing in Norfolk have been great to us too. They back every release we do and are keen to have us in every once in a while for a chat. We're really appreciative of their support.
What can you tell us about your, hopefully imminent, 4th EP?
Due to the line up change earlier this year EP4 has had to take a back seat. Our original plan was to have it out by February, which would have seen us release four EPs within 12 months, however, fear not, it will be coming soon! We have one song written and fully demoed, which we'll be playing at the DtR show, and plenty of other demos in the mix too. I think we're probably looking at around September time. Ben has stepped up to the plate and taken over on vocal duties alongside Brad, and stuff is sounding great. We are also extremely happy to welcome Alan [from Darwin & the Dinosaur] on board as part of the Deers live setup. Alan has supported us since our beginning and after helping us out for a show last year we wanted him involved more and so he'll be featuring at all Deers shows from now on.
What other gigs have you got lined up?
We're doing a Play Fest curtain raiser at the LP in Bury St Edmunds on Thursday 24 May with Model Staggs, Ill Murray and Whisky Jax. Then we're super excited to be appearing at Play Fest on Sunday 3 June too! To support the release of EP4 we will be looking to do a Norwich show and possible London dates too but nothing's confirmed yet!
Social media snapshot
Which social media do you use and how do you rate them in terms of the best way to promote your band, with 1 being the best?
| | | | |
| --- | --- | --- | --- |
| Ranking | Social media | URL | Anything to add? |
| 1 | Facebook | | Facebook is pretty much where it's at nowadays. Everyone has it and uses it on computers and phones. You can link in so much with it too: soundcloud, bigcartel, bandpage. Events pages are handy too to spread the word but it's no substitute for good old fashioned promoting with flyers! |
| 2 | Bandcamp | | We love bandcamp. It has so many options. We've released free EPs via bandcamp but ask people to give us an email address in return: it's then a great way for us to keep in touch. |
| 3 | Twitter | | Great for random updates and keeping people in the loop. |
| 4 | YouTube | | Videos are great. Everyone loves to see bands too. We are currently working on two videos and plan on doing several more throughout 2012 as we feel it's a market we haven't really explored yet. |
| 5 | Website | | It's a great place to culminate all links to various social media platforms! |
| Anything else? | | Tumblr, instagram | Tumblr is great for linking in FB and twitter and having a more in depth blog. Instagram allows us to upload photos too, which look real cool! |
We are Deers
Brad: vocals and guitar.
Ben: vocals and bass.
Steve: guitar and backing vocals.
Alan: guitar.
Jim: drums.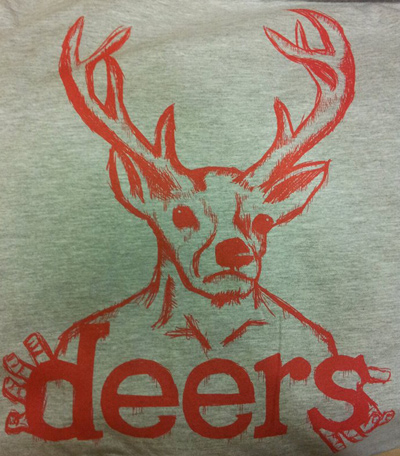 Just one XL of these T-shirts left but a white version with a black print is on its way!