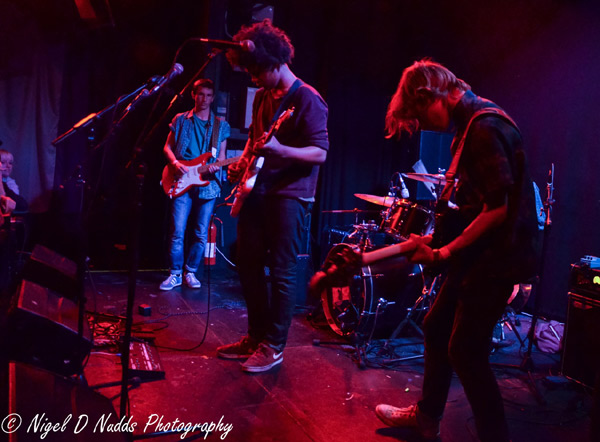 The Mondegreens play wombatwombat's Norwich Sound & Vision Showcase
on Thursday 10 October 2013 @ NAC bar
entry is via an excellent value NS&V wristband or an individual ticket for that evening's gig at NAC, subject to capacity.
What does your name* say about your music?
The name isn't something we particularly love but it sort of stuck!
* mondegreen [noun]: a misunderstood or misinterpreted word or phrase resulting from a mishearing of the lyrics of a song.
Origin: 1950s: from Lady Mondegreen, a misinterpretation of the phrase laid him on the green, from the traditional ballad 'The Bonny Earl of Murray' (Oxford Dictionaries)
How is your noise best described?
Indie rock with driving rhythms, heavy lead lines and angsty vocals.
For fans of…
We're influenced mainly by bands like Arctic Monkeys, Foals, Palma Violets, The Skints, Swim Deep, Peace, The Smiths and a lot of others so fans of those bands would hopefully like us.
wombatwombat HAD to have you for our showcase and you're also playing the Young People's Stage at NS&V on 11 October – tell us more!
We've been involved with CME for several years and they arranged for us to play their YPS a while ago. Our EP, EPisode [sic] 1, was recorded with CME's help.
Why should teenagers get involved in NS&V?
It brings in some quality music but also gives a lot of opportunities to younger people to get involved, so it can be a great experience.
What else do we need to know about The Mondegreens?
Fred, Jan and Gabriel have been playing together since the age of 10, having attended band courses at CME, and we finalised the line-up with Oli there in September 2012. When we play NS&V, Fred, Gabriel and Jan will be 15; Oli will be 14.
Social media snapshot
| | | | |
| --- | --- | --- | --- |
| Ranking | Social media | URL | Anything to add? |
| 1 | Facebook | | We use predominantly facebook to update people know about gigs and what we're doing and it's probably the easiest method. |
| 2 | YouTube | | For occasional, mainly live, videos. |
| 3 | Twitter | | For some updates. |
You heard correctly, The Mondegreens are…
Fred Garratt-Stanley: guitar.
Gabriel Gifford: bass.
Oli Jordan: vocals and guitar.
Jan Shelley: drums.