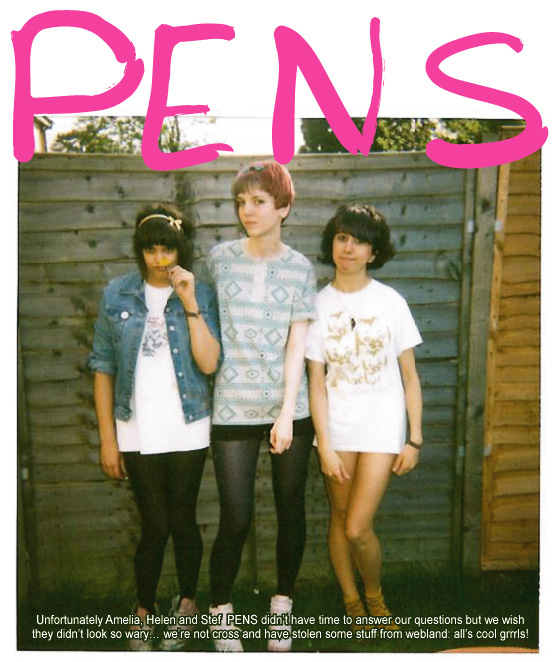 PENS play wombatwombat on Friday 11 June 2010 @ NAC
Helen PENS interview extract from LondonTourdates #057, 15 January 2010, by Charlotte Richardson Andrews
"We want to make pop songs in terms of melody and simplicity and catchiness, we all really appreciate a good pop song. But there is an element of something else in our instrumentations" she concedes, admitting that their "fuzzy keyboards and distortion guitar" give them a riot grrl, punk edge. "We're not virtuoso players, but we're not punk for punk sake either. We're into melodies and structure."
One of artrocker.com's US hacks ponders...
"Spent the weekend trying to find something to dislike about PENS. No dice... the first band in ages to really recall the energy of early-'80s Rough Trade groups (and their ilk) without merely trying to mimic their moves – as in, they are amateurish young punks with cheap gear, but they aren't just celebrating amateurism as an ethos. They are also blubbering fans who post videos of Cocteau Twins and Breeders on their own blog, they make cool videos for $40, and most important, they write short, killer songs."
Hey Friend, What You Doing? album review by Tom Whyman, thelineofbestfit.com
"They sound like someone has slowed down the Vivian Girls, or given them a lot of pills that mess with their time perception, or something, so they are doing everything in slightly skewed intervals to the rest of us. Or someone has given the Vivian Girls a brain injury, or something. Or maybe someone has played a different trick on all three."
Live review of Goldsmiths' Ladyfest, 25 February 2010, thegirlsare.com
"Always managing to stay just the right side of the DIY/low-fi aesthetic vs just plain shit divide, they cruised through their set with nonchalance, flippancy and a very visible sense of fun. I love a multi-instrumentalist. I love a band who swap instruments... Now, the PENS ladies can never be described as being particularly proficient on each instrument, but to do so would be to disregard the very thing that makes this band so frackin ace."
Blog up using this link and cock an ear 'ere to hear sound of PENS.