Ladyfest Norwich 2010
Unsurprisingly, the local lass behind Ladyfest Norwich 2010 is musician, artist, writer and generally creative type Maxie Gedge, who spills the beans about her forthcoming grrrl-inspired celebration
Ladyfest Norwich 2010: why?
Because I am a girl who grew up around so many great girl musicians in Norwich and have been so inspired by them that I have gone and done it myself.
When it's still obvious that girls are dismissed and marginalised and diminished to a gimmick in mainstream music, I think it's so important to keep that inspiration vibrantly moving, because that's how exciting new bands develop and exciting scenes and communities build. It's the 10-year anniversary of Ladyfest, so I thought it would be great to celebrate that here in Norwich where, in my opinion, the female talent has been thriving for quite some time.
Please tell us more...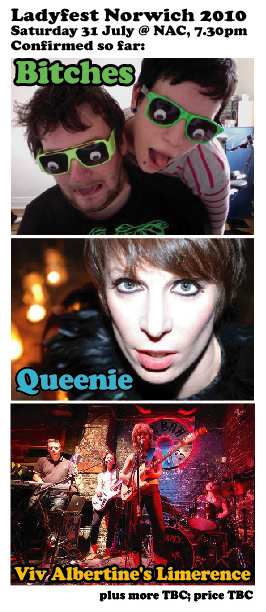 It's on Saturday 31 July at Norwich Arts Centre.
Ladyfest started in Olympia, US, in 2000, and has been taken on and made into an international festival of female creativity. At Ladyfest Norwich there will be a variety of acts, and a great festival-like atmosphere, which will be centred on celebration and fun.
The event is the same day as Norwich Pride and, although Ladyfest is in no way exclusive to the gay community, I think Pride is all about the same equality and acceptance as Ladyfest. I have not chosen acts specifically because they have girls in them – although that is a requirement – I have chosen them because I love them and they are all brilliant artists.
Along with the event, there will be a special edition zine with some exciting and challenging features, which will be available Norwich-wide, a CD with some of the best girl talent in Norwich on it, and on the night there will be stalls where you will be able to indulge in some of the hottest creativity on Eastern shores.
...and – just in case there was any doubt – what it offers to the boys, ie why they're welcome to, and should, join in.
Ladyfest is all about attitude and acceptance, and everyone appreciating female creativity, which isn't exclusive to girls at all.
In fact, I think it is essential that boys can feel welcome to take part in this celebration just as much as girls, because it's about spreading awareness to everyone. There are a few males in the bands playing, but I don't feel the need to justify the focus on female talent, because practically every gig I go to at the UEA, the Waterfront, the Marquee, Brixton Academy, Wembley – wherever – are subconsciously celebrations of male talent, which I love and take part in without doubt, but Ladyfest is about showcasing lots of great work by girls for once. Although the title may suggest gender exclusivity, weirdly enough, I haven't thought about gender too much in the planning so far, because there are just so many great female artists waiting there to be discovered and loved: Ladyfest gives them a platform that society usually denies them.
Apart from going to the gig, how else can people get involved?
Well firstly by checking out some of the amazing female talent we have in Norwich!
But more specifically I am looking for people to design logos and posters, to run stalls, to help on the day, to write articles for the zine, to feature on the CD, and just come up with innovative ideas in general. Although I have started this thing myself, I want the event to speak and represent as many people as possible, so any active, creative individuals should get in touch without hesitation.
What are the best ways to find out more?
On my blog www.pagesofgravy.blogspot.com or on the GRAVY facebook group.
People looking to get involved can email me at pagesofgravy[at]hotmail[dot]com