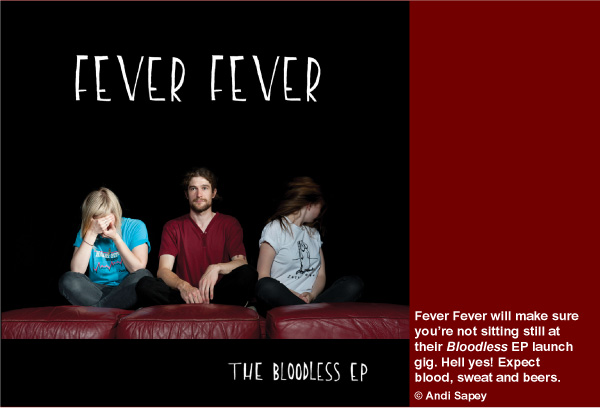 Fever Fever headline wombatwombat's Peel Day on Friday 08 October 2010 @ NAC
Please give us the low-down on your new EP...
Ahh oui. The Bloodless EP. It's what we have been working towards for two years as a hot hot threesome. So it has to be the best thing we can possibly make with those two years behind us, and it damn well is. It's nice and loud, nice and heavy. But there's a softer side to it too, which might surprise a few people. We have refined all elements of the band, and dare I say, matured!? There are tales of riots, un-riots, butchery and control freaks.
...and how is tonight's EP launch gig going to be special?
We always like to push the boat out on our release nights... so possibly something involving Rosie on a hovercraft. Plus it's the first time ever we will be headlining Norwich Arts Centre so we have got to step up our game. I think we have only just got our live sound to be REALLY how we want it to be, so the main thing is to play well and sweep people off their feet.
To what extent has your previous release, Monster, being an Artrocker single of the month made a difference to your profile and sense of purpose?
Well Norwich is a bit of a bubble, so people will often say they like our music whatever we make, not that we don't appreciate it – we love Norwich! But for Artrocker to recognise and like us, that means a lot, and it is a massive confidence boost. It kind of puts you on a roll, so you're like, "OK, we've done this now... what next!" So now we're hungry motherfuckers, searching for our next piece of gratification.
What else has been helpful spreading the love for Fever Fever?
We've got a manager called Arthur who is this God-like hero and whores us to everyone he meets. It's like when you get your first real girlfriend/boyfriend – they believe in you and back you up, so you actually start to think that what you're saying is right. Man, we love that guy.
Playing away from home helps a lot. We like to spread our own legs... I mean love.
Which bands from outside Norfolk has it been great to share a stage with and why?
Decadence In Berlin, they are from Birmingham and they are brilliant: the best people to be around. Local Girls (ex-Stuffy/The Fuses) are immense. Fellow Cherryaders Ste McCabe and The Lovely Eggs constantly fill us with joy. Also, Something Beginning with L and Abi Makes Music are ACE OF SPADES.
What would you like to achieve in the next 12 months?
We want to be pop stars.
Grrrls, please tell us a bit about your side project, Brothers...
It's the Girlypops from Fever Fever and the Girlywhores from The Brownies. We make a sweet noise that lies somewhere between Fleetwood Mac, An Experiment On A Bird In The Air Pump and Be Your Own Pet. But not as good as all of those of course.
Smit, what's news on the possible reunion of your previous band, The Charlie Horse?
We are all up for doing it at some point but we're all pretty busy. Don't rule it out, because we would all love to do it, but we just can't for the time being. We're divided between Nottingham, Norwich and Sheffield, so the logistics are difficult to say the least.
Who'll give you fever fever, make you bloodless and how?
Rosie sings like an angel, Ellie plays guitar like your Mum and Smit hits things like a demon.
Get some steamy band gossip using this link and hear their shit-hot sounds here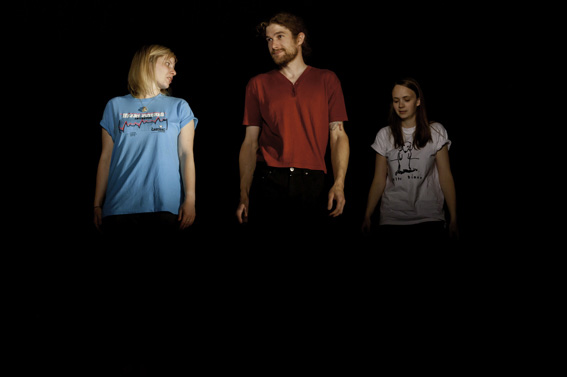 © Andi Sapey