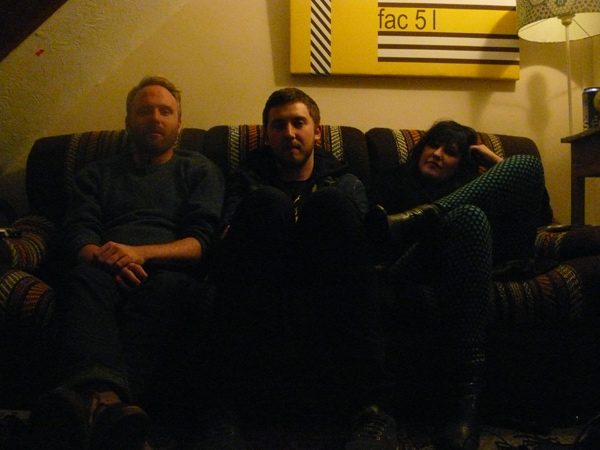 There's Someone In The Pond play wombatwombat on Friday 14 December 2012 @ NAC
online tickets from the button on this linked page.
Please tell us a bit about the musical heritage of There's Someone In The Pond and why you felt the need to start the band in Norwich in September 2012?
Fliss plays in The Nightingales, The Broken Seas and is formerly of violet violet. Jack used to play for Kodeta and Tom was in various bands in Canterbury. Fliss and Tom had been talking about starting a fun garage band a while before meeting Jack in May 2012. When they discovered Jack played bass they decided it would be a good idea to just do something rather than just talking about it.
And how did you pick the name – what does it say about your music?
The name came from Fliss misunderstanding something Tom says and it says nothing about the music whatsoever.
What else do we need to know about TSITP?
We're planning to start a new dance craze called The Crab.
How are you hoping people will react to your music bearing in mind, at the time of writing, you've nothing online and no physical demos?
We wrote this music to have fun ourselves and that's all we want from it, people to have fun and enjoy themselves at our gigs!
What can tonight's audience do when they're blown away by TSITP?
Buy us some old fashioneds so we can save our pennies to record some tracks for 'em!
Social media snapshot
Which social media do you use and how do you rate them in terms of the best way to promote your band, with 1 being the best?
We only have facebook – facebook.com/TheresSomeoneInThePond – tell your friends yo!
Who's in the pond?
Fliss: drums, loves sausages rolls, hates Jack.
Tom: guitar, lead vocals, has a good beard, hates Jack.
Jack: bass, loves a boob, hates himself.