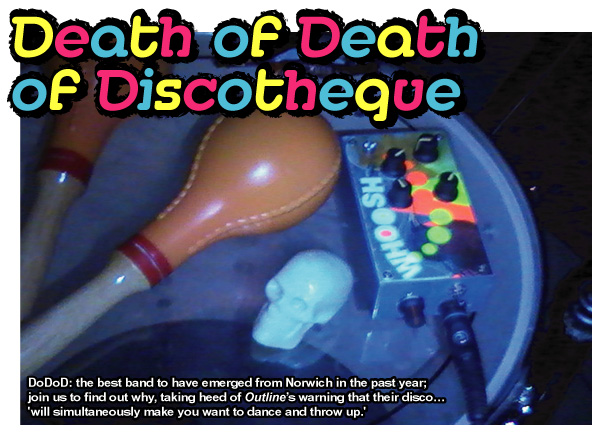 Death of Death of Discotheque play wombatwombat's Peel Day on Friday 08 October 2010 @ NAC
What does your band name say about your music?
We like repetition.
For anybody that hasn't seen you before, what can they expect from a DoDoD show?
BRING YOUR DANCING SHOES (both pairs).
Which local, national and international bands do you have an affinity with and why?
Seeing Health was magnificent, the range of ideas and sounds as well as the atmosphere built by segwaying virtually the entire set was amazing. Factory Floor are brill, and we share lcd soundsystem's appreciation of the cowbell.
Please share your thoughts on the Norwich music 'scene'...
The Norwich music scene is lucky to have some excellent acts. The return of aCivilian (formerly i am error) is something to look forward to and seeing Le Rock Sportiff the other day was brilliant, though we were and still are sad at the loss of the wonderful violet violet, whose like, I fear, will not be replaced swiftly.
What are your plans for releasing some music?
Our first single Sugar It Up will be available to download very shortly on NR ONE's sister label Eastzone Underground so keep your eyes peeled for that. Also we have just emerged from some recording sessions with the lovely Mr Jason at Old School Studios. We are super happy with the results and an album will be on the way once all that fun mixing and mastering is done.
Who's who of Discotheque...
J: vox, noisy boxes, cowbell, floor tom, 'Woo!' and 'Ahh!' keyboard and other toys that make tracks.
Roz: keys, BVs, skulls and stylophones.
Whit: guitar, BVs and bass frequencies.
Joe: BEATS.

Head over here to get your death disco fix