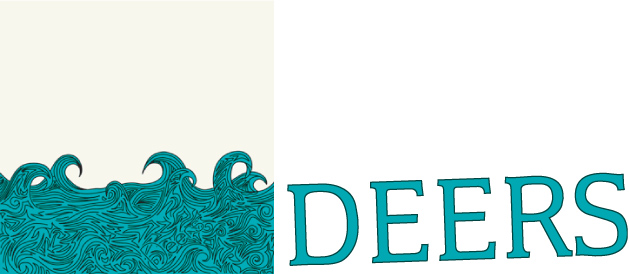 Get your free copy of Deers' limited edition first EP at this gig!
Deers play wombatwombat on Friday 08 April 2011 @ NAC
Why the name Deers and to what extent are we talking Monarch of the Glen (the painting rather than the TV series), Bambi (the animated Disney film) or venison (the lean meat rather than Barry the footballer)?
We see deer as a good representation of ourselves in the animal world. They're an iconic species, especially stags, and usually live in herds. Deers (the band) have no specific stag: we all unite and contribute equally. We hang out together and I'd like to think we make music with elements of beauty and ferocity, just like a deer's temperament. If we were animals, we'd be deer.
Your sound is well developed with a massive presence: what do you consider its key elements and influences, and what has been brought to Deers from your previous bands – The Long Time Promise, Innocence Or Otherwise and Dirty Paint Brush Sky?
Very little has been brought to Deers from our previous bands. The most important thing is that we all draw on our influences until we think it fits together. We write music that we'd like to hear and if other people like it, we'll continue in the same manner. Influences include bands like Minus The Bear, Brand New, early Biffy Clyro and Reuben. We also try to incorporate the prettiness of bands like The Appleseed Cast and the dynamics of Thrice to really create songs people won't forget.
Please tell us about your free self-titled four-track EP...
It's only available for free at shows for a limited time. It was self-produced to keep costs down and gave us total control over how we did it. It's not perfect but it's a sneaky peek at what we do.
What are Deers' plans for the rest of this year?
We are now writing again and looking to gig regularly all over the UK. We plan on releasing a further three EPs this coming tax year.
Please share your thoughts on the local music 'scene'...
It's not as bad as some parts of the UK and it has got better throughout time. It used to be too cluttered with bands playing to friends week-in-week-out in terrible venues. There still seems to be a lack of decent venues willing to put on new bands but plenty of hardworking promoters.
Who does what in the band?
We play a 1-2-1 formation with Jim in goal. Ben plays in defence with Steve and Brad in the midfield pulling the strings. Nicky resides upfront in his own little world...
Check out all things Deers here.