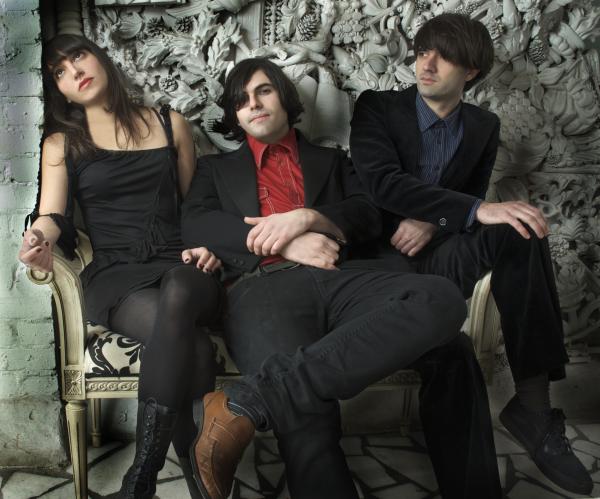 Prepare to be blown away by Marion, Raphael, JB and Anna, who's off-picture rosining her cello bow, when they deliver their David Lynch-inspired noise cocktail of awesome.
Underground Railroad headline wombatwombat on Friday 17 June 2011 @ NAC
Underground Railroad will be adored by fans of...
PJ Harvey, Pixies, Lydia Lunch, Velvet Underground, Gallon Drunk.
For people that haven't caught you live, how are you going to wow them?
Raw live energy, mix of drone guitar and cello from the two girls and simple but ferocious rhythmic section from the boys. A few electronic elements will surprise and bring psychedelic to a climax. No drugs necessarily needed.
You've been hotly tipped and revered by critics and audiences alike since your debut LP hit the decks in 2007; how is your 13 June released third album, White Night Stand, going to bring the bigger success you deserve?
We've produced this record ourselves, in our own Stamford Hill studio in London so we had more time to play around with instruments, effects and go beyond the limits of an expansive studio with an expensive producer. We've been very intimate in this record, creating our own world, dreamy soundscapes, cinematic music almost, very personal and honest lyrics.
There is not a hit single there; it's not necessarily a commercial record, but that's precisely the point.
White Night Stand will be perfect for music lovers' night stands.
"Intense and amped, touching and subtle at points and hugely tuneful, taking in early Radiohead and Liars as well as the beloved American alt.rock bands that made the three fall in love with music in the first place." (aaamusic.co.uk)
"I was drawn to the cover artwork of a mannequin on a bed. I think it sets the tone of the album, which was inspired by David Lynch... If you like British bands and don't mind waves and waves and waves of sound, I think Underground Railroad has some songs they can offer to your liking. I'll bet you those songs will sound great live." (weheartmusic.typepad.com)
Please tell us about White Night Stand and why you chose to donate a live studio demo version of Yellow Suit instead of any other track to wombatwombat's 10th anniversary compilation, wombatonebat vol 2.
Yellow Suit was one out of the three songs that were demoed before going to the studio. Most of the other songs weren't, as they weren't finished before we even started the recording process.
Yellow Suit is a perfect example of how our sound evolved from Sticks and Stones to White Night Stand.
Please share some details about your selection of videos to accompany the album at vimeo.com/channels/white nightstand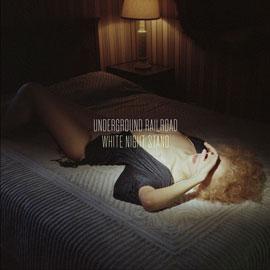 We've been frustrated to rely on other people to make a music video. They cost money to make and MTV's '90's rock videos golden age is now long gone. JB started to play around with Flash and photoshop and animated his own illustrations, ie Russian Doll or Rude Awakening.
They're homemade animations, very fun to watch and especially to make.
They are also helping to share our world with fans, as they're made by the band. I (Raphael) made two more videos filmed with a smart phone with footage shot on tour or on a night out in and at home London, ie Gingko Biloba and The Orchid's Curse. It's way more fun this way.
Everyone can now record music or make a video with a laptop. Why not do it!
Three-quarters of the band are Parisian émigrés: to what extent do you feel part of the UK and French music scenes...
We've now been settled in London for the last five years. Our move was originally a desire to expand our cultural background and see discover more music, more bands, more art, meet more people.
London is great for this. We do feel like a London band now and familiar with UK bands we met along the way. When we go back to Paris, we still feel like home and fans and friend come and greet us every time.
At the end of the day, we're not part of any scene, we're simply doing our thing, trying our best to make honest and interesting music, enjoy ourselves while the days go by. We could be from anywhere in the world, living anywhere in the world.
...and how do you keep tabs on what's happening back home?
We haven't for the past four years. I've been looking at The French scene recently using online webzines. There are good independent bands and artists out there that formed when we did and still keep at it, eg Laetitia Shériff, Marvin.
Also, one musician I know from university in Versailles made it big – Olivia, from The Do – and I'm happy for her and her band. I'm pleased that some of the few good artists from where we're from can be recognised.
What else do we absolutely need to know about Underground Railroad?
Anna is addicted to coffee.
Which new bands do you rate as 'must see'?
One Fathom Down; Trogons; Bad Guys; The Tambourines; The Computers.
Social media snapshot
Which social media do you use and how do you rate them in terms of the best way to promote your band, with 1 being the best?
| | | | |
| --- | --- | --- | --- |
| Ranking | Social media | URL | Anything to add? |
| 1 | Website | | Our official website. Updated by the band every week. |
| 2 | Facebook | | Updates from the band almost every day and latest news. |
| 3 | Myspace | | We kept our myspace very neat and up to date. Order records from this page. |
| 4 | Twitter | | |
| 5 | YouTube and/or Vimeo | www.youtube.com/user/urailroad; www.vimeo.com/channels/white nightstand | All our official videos/good live or interesting videos are posted on our YouTube. |
Who's aboard the Underground Railroad?
Marion plays guitar and sings.
Anna plays cello.
JB plays bass.
Raphael plays drums and sings.