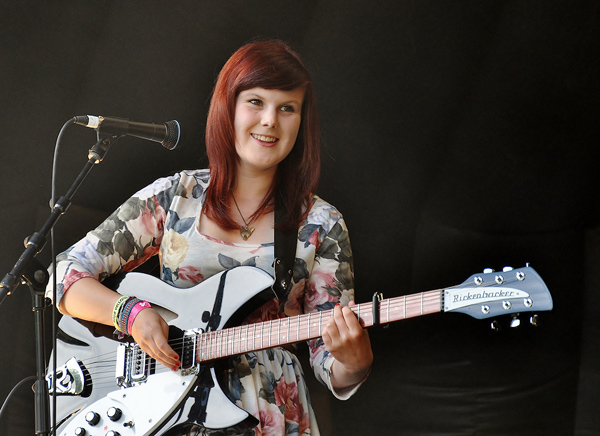 Josie WCD at the BBC Introducing in Norfolk showcase at the
Chapelfield Music Festival 2011, Norwich © Nige Nudds
We Can't Dance play wombatwombat's 11th birthday and Christmas party on Friday 16 December 2011 @ NAC
You've recently reshaped as a trio, how has that affected your sound?
We thought it was going to sound quite empty at first as we've lost a member but we've re-arranged the songs, added in new parts and we're even thinking of adding in some new instruments soon to give ourselves a more unique sound.
Please tell us about your new demos, including release plans and when you'll give these songs a live airing…
We have a couple of new songs that we're putting into the set very soon and we played two new songs at our gig at Epic. We just plan on writing as much new material and getting our set up to scratch for gigs in the future.
…and when and where can we expect to see the professionally filmed and edited footage of your set at Club Smith's single launch at Epic Studios on 5 November?
It should be ready in a couple of weeks [by December 2011, Ed], we're really excited to watch it back as we've never been properly video recorded before. As soon as we get the final copy we'll put a link up on our band page.
Which local, national and international bands do you have an affinity with and why?
We get on really well with local bands such as The Kabeedies and Hello Bear because we always seem to have a laugh playing gigs with them and its nice to stay closely connected with everybody in the local music scene. National/international band wise we all have slightly different music tastes but love bands such as The Vaccines, Tokyo Police Club and The Futureheads.
Apart from winning the McFly Battle of the Bands competition, what's the best possible thing that could happen to We Can't Dance next year?
We're just excited to get gigging around the country again and hopefully record and release a new EP in the near future. We always love playing festivals as well, they're always the highlight of the summer.
Social media snapshot
Which social media do you use and how do you rate them in terms of the best way to promote your band?
| | | |
| --- | --- | --- |
| Ranking | Social media | URL |
| ? | Label's website | |
| ? | Facebook | |
| ? | Twitter | |
| ? | YouTube | |
| ? | Bandcamp | |
Who Can't Dance?
Josie Steward: guitar/lead vocals.
Tom Joy: bass/backing vocals.
Dominic Taylor: drums.