Seymour Patrick comperes wombatwombat's Peel Day on Friday 08 October 2010 @ NAC
What are you bringing to our Peel Day celebration as compere?
Bad eyesight, worse trousers and vague delusions of adequacy.
What's your favourite Peel-related memory from your time fronting Miss Black America?
Doing sessions and gigs for the great man was obviously an incredible honour, but my favourite memory was when he first turned up at one of our hometown gigs in Bury St Edmunds with his wife Sheila. Andy Cairns from Therapy?, who we're big fans of, also came along – it turned out his wife went to the same school as our drummer Neil – and I was sat in the bar chatting to Sheila about local house prices, with John Peel and Andy Cairns talking to the band. It was deliciously surreal.
Also, John and Sheila used to routinely call – from their home number – all the bands John had played on his show, just to see how you were and what you were up to. I don't know if many people know that, but it's true. How many other world-famous DJs would bother doing that?
Please give us an update on your current band, Ten City Nation...
We've just made a third album, Futures, which we'll probably release next year, although we might plough straight on with album number four and then try to get both released at the same time, like a healthier-looking Bright Eyes, or worse-looking Guns N' Roses. We're also just about to release a new single as part of R*E*P*E*A*T Records' new Love Music Hate Racism EP, which also features Fever Fever, Popular Workshop, KunK and lots of other bands we're excited about. Other than that, we're having a break from playing live, and probably won't do so very much in the future, mostly because writing and recording is more enjoyable, and also because all the money we lose gigging we could be using to do sensible things, like buying instruments that work properly, or taking crack. I'm also starting on a new solo thing, but it won't just be me being a winsome singer-songwriter, it'll have a purpose and I'll construct some kind of media circus and drag it round arts festivals and the like. That's the idea anyway, it might fall flat on its arse but I'll enjoy the challenge. And it won't be anything like Newton Faulkner, although my hair is naturally ginger. But don't tell anyone.
...and tell us about your involvement with XStream East Radio.
I'd done quite a few radio interviews over the years and usually ended up trying to take over the show, plus I was getting tired of seeing so many good bands that really excited me being completely ignored by the media for not sounding exactly like everyone thinks all bands should sound this week, so I thought it was about time I started my own show. I was interviewed by the lovely Jamie and Andy on Xstream East Radio last October and really enjoyed myself, so I cheekily asked if they were looking for DJs, and they were. It's a really good way to hear new stuff, and having been in the position for so many years of feeling that you have to beg DJs and journalists and promoters to love you, I wanted to make it clear to bands and listeners that we actually desperately wanted to hear from them. I grew up listening to John Peel and his attitude was always simply that if he liked it, he'd play it, so I hope we've carried that attitude over to my show.
What's your advice for new bands?
There are two main questions you should always ask yourself: does this mean the world to me, and am I having fun? If the answer is yes to both, happy days. If the answer's only yes to one, that's still not bad going. If the answer is no to both, walk away. If you're going to risk your health and sanity for something as poxy and brilliant as rock and roll, you'll need a rationale to console yourself with when they lock you in a padded cell and your liver explodes.
Hear Seymour's current band here, listen to his Peel-approved combo from this link and tune-in to www.xstreameast.co.uk to hear him DJing every Thursday night, 6pm-8pm or repeated every Saturday, 5pm-7pm.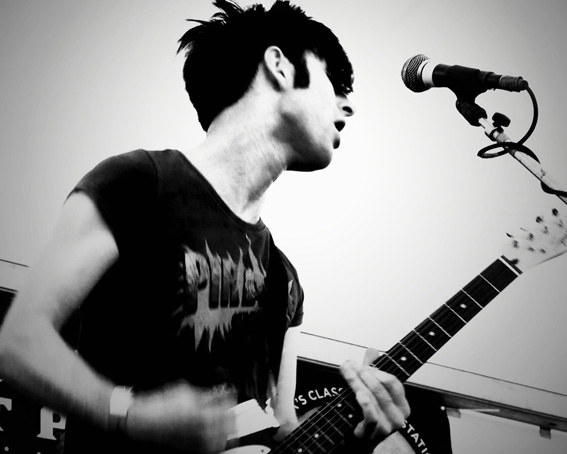 Seymour fronting Ten City Nation, summer 2009. © Victoria Smith