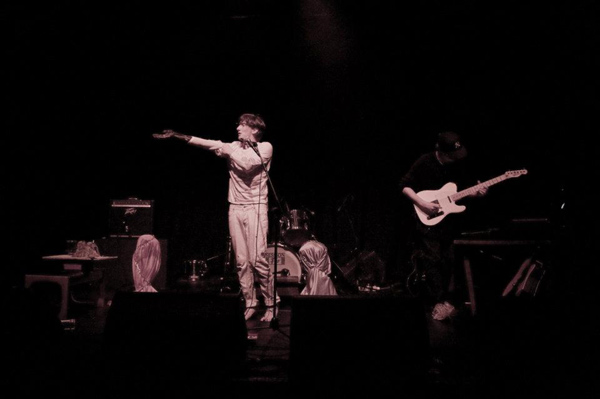 © JMA Photography

Don't miss Octagon Court's first gig for wombatwombat; online tickets from the button at the bottom of the this linked page
Octagon Court play wombatwombat on Friday 24 February 2012 @ NAC
The visual element of your performance is very strong: Why is it important and what inspires this?
We come from art school so we're quite sensitive and aware of our 'visual element', we get excited in the visual potential in what we write. Automation helps. The focus is drawn toward the idea. Sincerity. Sex.
What would Octagon Court's music look like if it were a work of art?
It would look exactly the same.
Please share your thoughts on the Norwich music 'scene'…
Don't go wasting your emotion. Lay all your love on me.
What can you tell us about your release plans?
We have an imminent track release with music video and live event at Visions Video Bar in Dalston, London, April – specific date TBC: keep your eyes on our face book.
Social media snapshot
Which social media do you use and how do you rate them in terms of the best way to promote your band, with 1 being the best?
Ranking

Social media

URL

1

Facebook

= 2

Twitter
YouTube
website

5

Soundcloud

6

Myspace
Octagon Courtiers
I am on Steve's fingers, Charlie is in my mouth. Magic School Bus.