© Ester Segarra
Cold In Berlin headline wombatwombat on Friday 14 December 2012 @ NAC
online tickets from the button on this linked page.
You effortlessly thrust between heavy genres – what kind of person will enjoy the enormously loud, sexually-charged, intensely aggressive, interactive experience that is Cold In Berlin live?
Maya: Pretty much anyone into heavy music and enjoying themselves.
Adam: 'Loud, sexually-charged, intensely aggressive, interactive'… What's not to love?!?
…And Yet, the title of your current album, is just two words but they also appear in Break My Bones* from your debut album, Give Me Walls, as what could be considered a telling confessional statement: how do the two releases connect and define the band's progress…
* "There are things I want to say/That my heart will not articulate/There are words my heart will not beat/There are lips my words will not form/There are simple breaths my lungs will never fill/And yet, for you, I open still." (Break My Bones)
Maya: It is actually incidental that the words appear again. I like certain phrases so repeat them. '…And yet' is particularly powerful because it can be positive or negative, a beginning or an ending depending on the context and the input of the listener, where the audience get to bring their own meaning to our story. For me it is the same – it brings together the feeling for the album as a whole. We keep going …and yet, we are strong and still standing …and yet there is more to come.
…and how much should we read into the lyrics?
Maya: As much as you like. All words are confessional for writers – sometimes they are in code. It is up to the listener to decide for themselves which bits are un-coded and which bits aren't.
Inverted crosses feature quite heavily in your imagery: what does that say about Cold in Berlin and the music you make?
Maya: Absolutely nothing – should it?
Adam: An inverted cross is not satanic it's a symbol of St Peter's 'unworthyness'. So maybe we're not worthy… Looks good on T-shirts though don't it?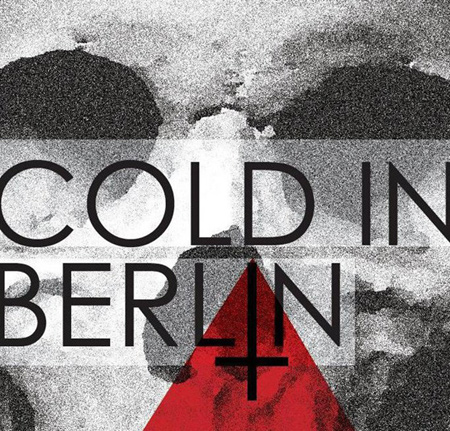 Which other bands do you have an affinity with and why?
Adam: None, we're all pretty misanthropic. We used to have an affinity with other struggling independent bands, but we probably can't claim to be one of those any more. Just bands that insist on doing things their own way, like Electric Wizard. You won't see them updating Facebook, just getting high and writing music.
Last time you played Norwich on 23 March 2012 it was in the cosy setting of Olive's café, tonight it'll be in what could be considered a more appropriate surroundings of a deconsecrated 14th century church complete with memorial plaques and a chill hanging in the air: to what extent does the performance space and audience reaction affect your live show?
Maya: Not really, we give the same show wherever we are but I think the setting affects the audience experience as with any performance. I am looking forward to the gig, it's always good to go back to a city and find a cool venue.
What has been your most challenging situation at a gig and how did you deal with it?
Maya: Nearly every gig is challenging in their own way. No gig is perfect nor should it be, some of the best moments come from imperfection – there are so many variable in playing live, it's fun not knowing.
What are your favourite albums and/or singles of 2012?
Adam: I don't actively seek out new music as much as I'd like to. Swans' The Seer was the only album I bought in 2012 [at the time of writing, Ed].
Which other breaking London acts should we be keeping tabs on during next year?
Adam: Terminal Gods and Limb.
What are Cold In Berlin's plans for 2013?
Adam: Play our last UK shows for 2012, release our next single Take Control in January 2013 then tour the UK and Europe! Lots of summer festivals hopefully!
Social media snapshot
Which social media do you use and how do you rate them in terms of the best way to promote your band, with 1 being the best?
| | | |
| --- | --- | --- |
| Ranking | Social media | URL |
| 1 | Facebook | |
| 2 | Twitter | |
| 3 | Band and label's websites | |
| 4 | Bandcamp | |
| 5 | Myspace | |
| 6 | YouTube | |
| 7 | Anything else | |
Who's cold in Berlin?
Maya: sings and pays for everything.
Adam: guitar and breaks everything.
Bozley: bass and complains.
Alex: drums and drives.