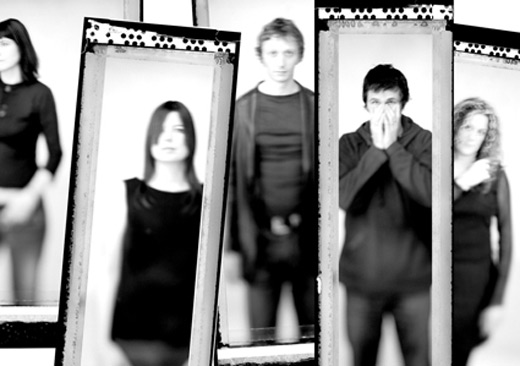 Fiel Garvie return for one night only!
Online tickets from the button at the bottom of the this linked page
Fiel Garvie play wombatwombat on Friday 13 April 2012 @ NAC
You're reforming especially for this gig: what's the story behind this one-off show, almost five years after you last played…
We all missed the feeling of camaraderie and sexual tension we had in the band, so saying 'yes' to the gig offer was a green light to our previous antics. Plus, we still like playing the songs.
…and what can people that aren't familiar with Fiel Garvie expect from the evening?
White suits and a dance show probably. We will be packaging up our three albums in nice hand printed wrapping and selling them at the gig.
Fiel Garvie's sound is best described as…
…sparkly, woozy, getting drunk, being too truthful, fuzzy.
…and if your music were a dream or nightmare, what would happen?
It would involve drowning – actual and metaphorical.
What else do we absolutely need to know about Fiel Garvie?
Four-fifths of us are ex-Catholic atheists. Well, more accurately, three atheists and a belligerent agnostic. This is more interesting than a morsel of musical information.
Who and what Garvie?
Anne: vocals, guitar, keyboards.
Emma: vocals, keyboards.
Jude: bass.
Adam: guitar.
Greg: drums.
Annie: light monitor.