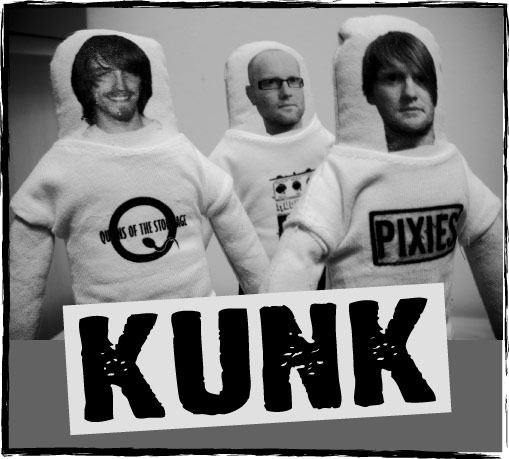 Mini-KunKs Ritchie, Wayne and James are ready to share their massive noise, © Danger/Panic Photography; dolls courtesy of Youdodoll.
KunK headline wombatwombat's Waterloo Park walkabout 8 on Sunday 01 August 2010
KunK's sound is best described as...
...sometimes melodic, sometimes poppy, always noisy.
...and if your music were a hearty meal, what would it be?
Steak and chips. Nothing fancy, but still really good.
What are the three most important things we need to know about KunK?
1. We know we have a crap name.
2. We love distorted bass, especially Wayne's SansAmp!
3. We once played an impromptu gig for comedian Adam Hills.
Apart from sounding great in the sunshine on Waterloo Park's bandstand, when else is your music best enjoyed?
When you want to punch Noel Edmonds in the face because he's an annoying twat.
What are your plans for the rest of 2010?
We're going to be releasing an album before the end of the year, check our myspace or facebook for the latest news on that. Hopefully, there'll be a load of gigs to promote that. Then we intend to write an even better album.
Who are these voodoo chiles?
James: guitar, vocals, useless facts.
Ritchie: drums, backing vocals, silly voices.
Wayne: bass, vocals, moth eating.
Hear KunK at their myspace and get lots more info from their website