from Norwich: www.myspace.com/bearsuit
Hurrah! It's fitting that our long-term chums and darlings of all the cool DJs & media headline, as:
1. Charlene Bearsuit headlined our 1st gig, 12 December 2000, playing bass in Kensuke Kimachi
2. Bearsuit – then Lisa, Mouse, Jan, Matt Moss on bass, Phil Archer (now of Transept) operating some samples & playing a record backwards, & Emma Lee (now a top reporter at the EDP) on shakers & a triangle – opened our 2nd gig on 25 January 2001
3. Bearsuit totally effing rock: The Phantom Forest, their 3rd album proper, is out in early 2011 when they're going to become massive... you can hear some new tunes & old faves tonight

"Louder than an explosion in a fireworks factory" (Artrocker)
"Quite possibly the kookiest band in pop right now... [Please Don't Take Him Back] this sleekly fizzing slice of ear candy demurs to a dance floor dallying tryst between the peerless pop panache of St Etienne & the analogue accents of a youthful Broadcast... Impeccable." (losingtoday.com)
from Norwich:
www.myspace.com/scumbagphilosopher
The gang you loved as Fuck Dress, with a new name but the same attitude: y'know, freaky neat rhythms and rhymes underpinning streams of semi-spoken ejaculate; songs about a Godless existence with Radiohead, office life, bus timetables & maths for fun
"Angular guitar, metronomic drums & alienated male/female vocals... harks back to when indie was a badge of honour for bands who stood outside the mainstream" (The Devil Has The Best Tuna)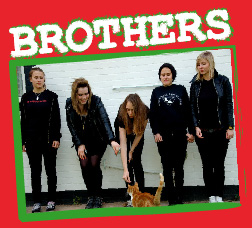 from Norwich: www.myspace.com/brothersuk
In their words: "It's the Girlypops from Fever Fever & the Girlywhores from The Brownies. We make a sweet noise that lies somewhere between Fleetwood Mac, An Experiment On A Bird In The Air Pump & Be Your Own Pet."
In our words: Best new band in the world. Fact. And everyone in Norfolk has to love their brothers, right, it's the law around here.
"Must check out Norwich band Brothers." (Ritzy Bryan, The Joy Formidable)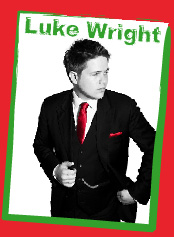 from Norwich: www.lukewright.co.uk
wombatwombat has grown up with Luke – his poetry collective Aisle 16 also celebrates its 10 anniversary this year and and we've been collaborating since 2002. As well as being part of our compere crew, you may've caught Luke hosting the poetry arena at Latitude, which he also programmes. Or been wowed by him performing at the Edinburgh Fringe. Or heard him as one of the poets-in-residence on BBC Radio 4's Saturday Live. Or read one of his books. Or enjoyed one of his solo shows or performing as a member of Aisle 16, back in the day when it all began... Whatever, make sure you catch this spoken word genius compering our 10th birthday and Christmas party: he'll be a proper treat, the icing on our celebratory cake.
"The best young performance poet around." (The Observer)
"Visceral, poignant and riotously funny." (The Scotsman)
"Performance poetry's key revivalist." (Metro)
"He must be on some kind of dope." (John Cooper Clarke)